Hip hop fans go wild as Dr Dre joins Anderson .Paak on stage in London
Apple's golden boy Anderson Paak blew Brixton Academy away by bringing out Dr Dre to perform "Still D.R.E." and "The Next Episode" at the start of his epic hour-long free show last night. There had been whispers of the OG making an appearance – the "one-night-only event" put on by Apple Music and Beats in London was billed as Dr Dre Presents: Anderson Paak and The Free Nationals – but it wasn't until five minutes in that the hopes of the entire room materialised.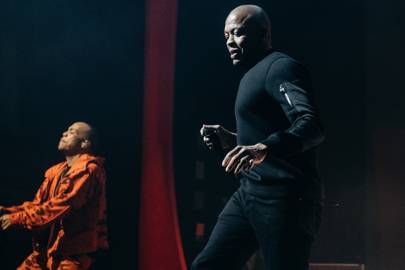 Rex/Shutterstock
And it wasn't just Beat's involvement that suggested Dr Dre might show. It's well known that Dr Dre is Anderson Paak's mentor, having discovered the once-homeless Malibu artist and propelling him to fame a few years ago. The hip hop mogul, whose knack for spotting a protégé is well known (former mentees include Snoop Dogg and Eminem), found himself listening to 30-year-old Paak's – real name Brandon Paak Anderson – song "Suede" on repeat and duly signed the artist to his label, Aftermath Entertainment, in January 2016. Paak also featured heavily on Dr Dre's comeback album Compton, co-writing and featuring on six tracks – more than any other collaborator.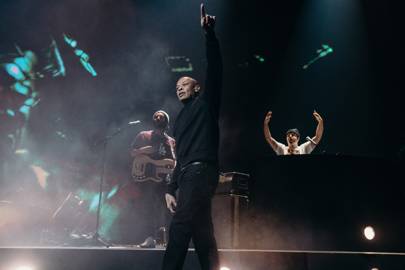 PA Photos
It was good vibes only as Paak bounced around the stage with an infectious energy, singing, rapping and regularly taking to the drum kit centre stage. It was like watching an incredible jazz musician at work, one who has successfully managed to fuse his experimental edge with classic hip hop techniques to create some seriously magical music. Together with Dr Dre, Paak created some of the most memorable minutes in music of the year so far. The 6ft tall, 53-year-old rapper told the packed-out auditorium "to present and represent" Paak, before making a swift exit from the stage after finishing "The Next Episode".
Watch Anderson Paak and Dr Dre Perform "The Next Episode" live in London here:
Follow us on Vero for exclusive music content and commentary, all the latest music lifestyle news and insider access to the GQ world, from behind-the-scenes insight to recommendations from our editors and high-profile talent.
Like this? Now read:
Anderson Paak interview: the once-homeless rapper discovered by Dr Dre
Who would win a rap battle between Dr Dre and Eazy E?