Malcolm Jenkins: Haloti Ngata is 'another good addition'
Count Malcolm Jenkins as a fan of the Philadelphia Eagles adding Haloti Ngata to their defense. Jenkins, signing Eagles Super Bowl championship DVDs at Modell's in the Roosevelt Mall, had plenty of positive comments for Ngata as he is set to sign his free agent contract with the Eagles.
Call it a strong endorsement. 
"He's another veteran on that D-Line that has been a force to be reckoned with since he stepped foot in the NFL," Jenkins told 247Sports. "It seems, obviously, our D-Line has been a priority this offseason and just been getting better from already having a strong performance last year."
The Eagles are Super Bowl champions! This incredible journey is JUST beginning! Make sure to stay in the loop for all Eagles news throughout the offseason — take five seconds to sign up for our FREE Eagles newsletter now!
The Eagles led the NFL with 291 pressures last season, but Ngata adds a different dimension to Philadelphia's defensive line. Ngata is still one of the elite run stopping defensive tackles in the NFL at 34 years old, as the five-time All-Pro helped Detroit allow just 80.2 rushing yards per game when he played, compared to 129.7 in the 11 games he missed due to an elbow injury. The Lions were a top-10 rushing defense with Ngata in 2017, which the Eagles took into account by adding him in free agency.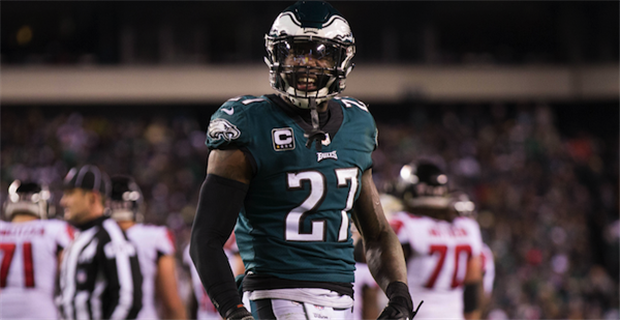 Malcolm Jenkins is excited over the Haloti Ngata signing. (Photo: Al Bello-Getty Images, USA TODAY Sports)
Ngata had just seven tackles and two sacks for the Lions last season, but brings a wealth of championship experience to the Eagles…winning a Super Bowl in 2012 with the Baltimore Ravens (the team that drafted him when Eagles Vice President of Player Personnel Joe Douglas was a scout). 
Jenkins has Ngata fitting right in with the Eagles defense, adding to an already strong culture. 
"Haloti's another guy that's been on really good teams and understands what it takes to win," Jenkins said. "He's a veteran that you don't need to worry about. Obviously, that's going to be another good addition."
To follow Eagles reporter Jeff Kerr on Twitter: @JeffKerr247