2,43120 – The Amount You Can Save If You Start Investing In Atal Pension Yojana From 18 Years Of Age
Rs 5,000 per month. If that is the pension you desire after turning 60, you can take two routes – either invest Rs 210 per month for 42 years or invest Rs 1,454 per month for 20 years. Pension scheme APY or Atal Pension Yojana is a government-run scheme mainly focused on the unorganised sector employees. One can start investing in this pension scheme between 18 and 40 years of age to earn a fixed minimum monthly pension of Rs 1,000, Rs 2,000, Rs 3,000, Rs 4,000 or Rs 5,000, depending on contribution and the age of starting investing in the Atal Pension Yojana. Starting at an early age minimises the contribution required to reach the desired minimum monthly pension under APY, thus maximising the pension benefit, say experts.
Most financial advisors recommend starting early in an investment program. But first, here are the three key things to know about pension scheme APY or Atal Pension Scheme: (Also read: National Pension System, PPF or Senior Citizen Savings Scheme (SCSS) – Which one to pick?)
How to invest in APY
Atal Pension Scheme is open to all citizens of the country between 18 and 40 years of age. All you need to have to be able to enter this scheme is a savings account – either with a bank or a post office.
Benefits
Since the scheme is aimed at the unorganised sector, Atal Pension Scheme's biggest benefit is the low amount of contributions required to earn a fixed pension after turning 60, say experts.
Opting for this scheme helps to get the desired monthly income (ranging from Rs 1,000 to Rs 5,000) "with a minimal investable amount, and which can secure the minimal daily needs of individual", Dinesh Rohira, founder and CEO, 5nance.com, told NDTV.
The scheme also enjoys the same tax benefits as NPS or National Pension System, which means a contributions paid in APY can be claimed for income tax deduction up to Rs 50,000 under Section 80CCD (1B) of the Income Tax Act, over and above the Rs 1.5 lakh allowed under Section 80C. In case of death of subscriber, the monthly pension is paid to the spouse.
There's even more. In case of death of the spouse, the accumulated pension wealth is returned to the nominee of the subscriber, according to retirement fund body Pension Fund Regulatory and Development Authority (PFRDA). Also, in case of death of the subscriber, the spouse can also choose to carry on with the contributions till the maturity.
Who can invest in APY
APY is focussed on all citizens in the unorganised sector, according to PFRDA. Launched in May 2015, Atal Pension Yojana is administered by PFRDA and implemented through all the banks nationwide. (For more details on APY, read this)
The pension scheme is suitable for individuals belonging to the lower income group or those who don't have a fixed employment, says Mr Rohira of 5nance.com.
"One should look for investing in APY scheme if the individual doesn't have a significant or larger corpus to invest. It can also be subscribed by an individual who doesn't have a dependent family member to look after in old age," he adds.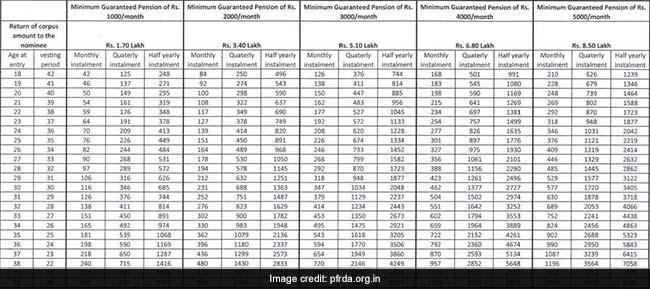 How to save Rs 2,43,120 by starting at 18 years of age
To maximize the earnings through APY, an individual can invest at an early age since the contribution amount increases with increase in age, says Mr Rohira.
 
Fixed minimum monthly pension of Rs 5,000 under APY
Starting age (in years)
Monthly contribution (Rs)
Total contibution (years)
Total investment (Rs)
18
210
42
1,05,840
25
376
35
1,57,920
30
577
30
2,07,720
35
902
25
2,70,600
40
1454
20
3,48,960
"For instance, a subscriber at the age of 18 will have to pay Rs. 210 on a monthly basis for Rs. 5,000 slab. This accounts for total investment of Rs. 1,05,840. If the subscriber opts at the age of 40 for the same pension slab, a monthly investable amount is Rs. 1,454. Therefore, the total investment comes to Rs. 3,48,960, which means a person will pay Rs. 2,43,120 more to get the same pension slab," explains Mr Rohira of 5nance.com. "It is always advisable to start early," he adds.~Source reference~