Wells Fargo Earnings: Buffett's Top Bank Is On The Mend
By Bob Ciura
Earnings season is officially upon us. On Friday, April 13th, banking giant Wells Fargo (WFC) turned in better-than-expected financial results for the first quarter. Wells Fargo beat expectations on both the top and bottom line, but the stock fell 3%+ after reporting.
Wells Fargo has had a difficult year, but it still has one of the most legendary investors of all time—Warren Buffett—on board. As of 12/31/17, Buffett's Berkshire Hathaway (BRK.B) owned 458.2 million shares of Wells Fargo, worth approximately $23.3 billion based on Wells Fargo's current share price.
It is easy to see why Buffett would invest in Wells Fargo. Buffett typically looks for high-quality businesses with sustainable competitive advantages, trading at discounts to their long-term intrinsic value. Wells Fargo appears to be undervalued, with a strong brand and compelling dividend. Wells Fargo has a dividend yield of 3.1%. It is one of 1000+ dividend stocks we track in the financial sector. You can see all 1,263 financial dividend payers here.
This article will review Wells Fargo's most recent quarter, and why the stock remains attractive for value and income investors.
Earnings Overview
For the 2018 first quarter, Wells Fargo reported earnings-per-share of $1.12, on revenue of $21.9 billion. Revenue dipped 1.8% from the same quarter a year ago. Nevertheless, revenue and earnings-per-share both beat analyst estimates, by $160 million and $0.05, respectively.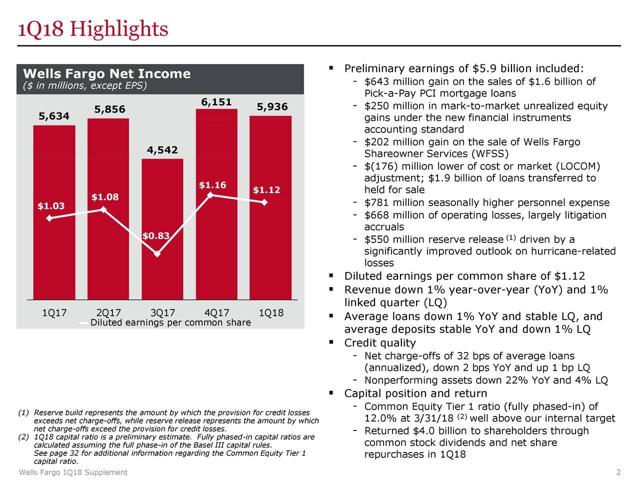 Source: Earnings Presentation, page 3
There were also some negative tidbits in the quarter. For example, net interest margin of 2.84% was flat year-over-year, and slightly missed analyst expectations. In addition, total loans of $947 billion fell by approximately $11 billion year over year, driven by a drop in consumer loans. That said, Wells Fargo's loan portfolio looks to be in better shape. First-quarter charge-offs were 0.32% of loans, an improvement from 0.34% in the same quarter last year.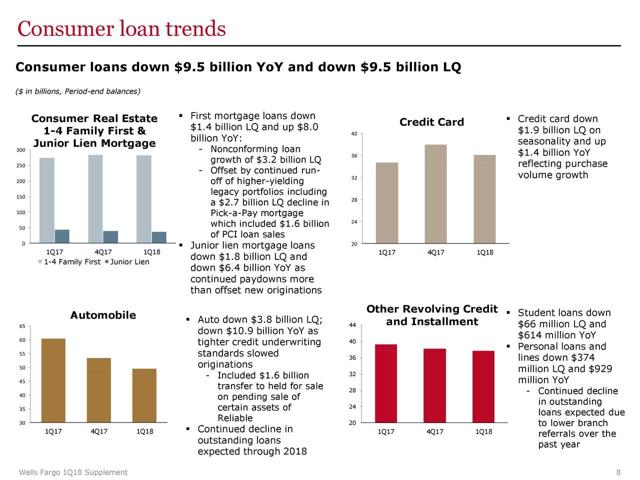 Source: Earnings Presentation, page 9
Overall, Wells Fargo seemed to have a good quarter, with a strong beat on revenue and earnings-per-share. The company is still dealing with the aftermath of the fake accounts scandal, which the company is still working through. Investors may recall Wells Fargo incurred a $185 million fine, because it opened millions of accounts for its customers without their consent. It eventually cost the CEO his job, and cast a cloud of uncertainty over the company in 2016 and 2017. The issue is far from being resolved, as there is likely a big fine coming from the CFPB and OCC, which could approach $1 billion.
Wells Fargo is likely to face a significant financial penalty, which could serve as an overhang in 2018. While the outlook for 2018 is murky, and depends on the potential settlement, Wells Fargo remains a highly profitable dividend stock.
Growth Prospects
The most important growth catalyst for Wells Fargo is economic growth. As a major financial institution, Wells Fargo is reliant on a healthy economy and consumer. Rising loans and deposits allow Wells Fargo to generate higher revenue.
Source: Earnings Presentation, page 10
There is good news on this front, as the March meeting of the FOMC revealed that the central bank expects the economy to continue growing at a strong pace. The Fed expects GDP growth of 2.7% in 2018 and 2.4% in 2019. Both growth figures represent meaningful acceleration above the post-recession average. In December, the Fed's GDP forecasts called for 2.5% economic growth in 2018, and 2.1% in 2019.
Another growth catalyst is rising interest rates. With the U.S. economy on more solid ground, the Federal Reserve appears to be increasingly concerned with inflationary threats. There could be as many as four rate hikes in 2018, and additional hikes in 2019, to keep the economy from overheating. This is generally positive for banks, as it means they can earn higher levels of investment income from loans. While total loans dipped slightly last quarter, total average loan yields rose by 24 basis points last quarter, year over year. And, additional rate hikes by the Fed should allow Wells Fargo to accelerate its net investment income.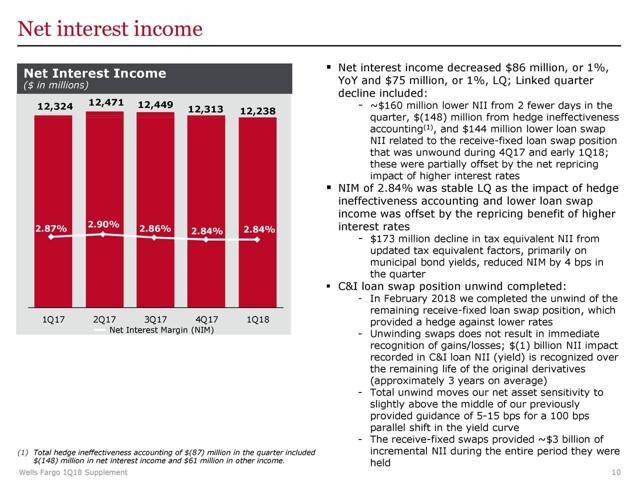 Source: Earnings Presentation, page 11
Wells Fargo's fundamentals are challenged right now, but it still has positive growth potential for the long-term. Wells Fargo is the nation's third-largest U.S. bank by assets, and the largest mortgage originator. It was founded all the way back in 1852, and has developed an industry-leading brand. This provides the company with meaningful competitive advantages, or what Buffett would call an economic moat. Barring another global financial crisis, Wells Fargo should continue to generate growth.
Valuation & Expected Returns
ValueLine analysts currently expect Wells Fargo to generate earnings-per-share of $4.35 in 2018. This means the stock is trading for a price-to-earnings ratio of 11.7. In the past 10 years, the stock held an average price-to-earnings ratio of 11.9, which indicates the stock is slightly undervalued.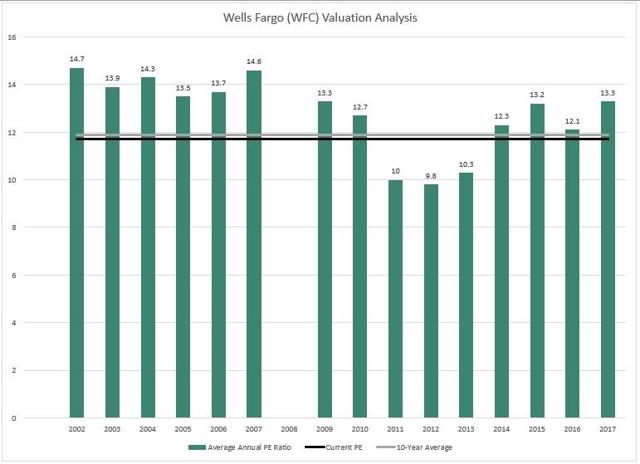 Source: ValueLine
In addition, based on projected 2018 book value, Wells Fargo is trading at about 1.3 times book value. This is not a deep-value stock, but high-quality brands rarely trade at dirt-cheap levels. Wells Fargo's valuation seems to epitomize Buffett's famous strategy that it is better to buy a great company trading at a fair price, than a fair company trading at a great price. Wells Fargo's valuation has room for slight expansion, which could add 1% to 2% to annual returns.
In addition, shareholder returns will be generated from earnings growth and dividends. According to ValueLine, Wells Fargo grew earnings-per-share by 5.5% annualized, over the past 10 years. Mid-single digit earnings growth could be viewed as a reasonable base-case scenario moving forward. In addition, Wells Fargo has an attractive 3.1% dividend yield. Investors could earn total annual returns of 10% per year, comprised of expansion of the price-to-earnings ratio, earnings growth, and dividends.
Dividend Analysis
Despite the current troubles facing Wells Fargo, the company is more than profitable enough to sustain its attractive 3.1% dividend. Wells Fargo currently pays a quarterly dividend of $0.39 per share, or $1.56 per share. Wells Fargo has a strong capital position, which provides support for the dividend. For example, the company had a Common Equity Tier 1 Ratio of 12% at the end of the first quarter, up from 11.2% in the 2017 first quarter, and well above the 10% required regulatory minimum. Including dividends and share repurchases, Wells Fargo returned $4.0 billion to shareholders last quarter.
Wells Fargo has also returned to dividend growth in the years after the Great Recession ended. Dividend growth has slowed down in recent years—Wells Fargo passed along just a 2.6% dividend increase in 2017. However, with a 36% payout ratio projected for 2018, the company could pass along another dividend increase this year that at least beats inflation.
Final Thoughts
Wells Fargo beat first-quarter earnings expectations on both the top and bottom line, but the stock fell anyway, implying that investors were disappointed with the results. Wells Fargo is seeing pockets of slowing growth, particularly in auto loans. And, the prospect of a steep fine adds to the lingering uncertainty hanging over the stock.
However, long-term investors should not overly fixate on near-term issues. Wells Fargo is still a highly profitable bank, with a low valuation and 3%+ dividend yield. This sets up investors to earn satisfactory returns moving forward, particularly with economic growth and rising interest rates as growth catalysts.
Disclosure: I/we have no positions in any stocks mentioned, and no plans to initiate any positions within the next 72 hours.
I wrote this article myself, and it expresses my own opinions. I am not receiving compensation for it (other than from Seeking Alpha). I have no business relationship with any company whose stock is mentioned in this article.