Zillow: No Need To Panic About Instant Offers
The fact that investors are risk-intolerant has long been a central tenet of investing. The new and the unknown are not welcome on Wall Street – investors would much rather prefer that their companies produce a consistent stream of quarterly beats, with minimal disruptions and as few strategy changes as possible.
Zillow (Z), the premier online real estate data site, shook up the markets when it announced it would be dramatically expanding its Instant Offers program.
A quick primer for the unfamiliar – Instant Offers in itself is not exactly new. Zillow has been experimenting with principal real estate transactions since 2017, according to its 10-K, though until now such activities had been very limited in scope. Using the company's proprietary data, Zillow can opt to make a spot offer on a seller's home and purchase it from them in a quick transaction. Zillow also secures a real estate agent for the seller, eliminating the notion that Zillow is effectively competing with its largest customer base (the majority of Zillow's revenues are derived from the fees that real estate agents pay to be featured on Zillow sites next to home listings).
Analyst downgrades have come out on the basis of risk in an expanded Instant Offers program, but I find this argument to be a bit inconclusive. True, principal transactions involve risk, but this move also gives Zillow access to a completely new and diversified revenue stream. The company will also own a large portfolio of homes, shielding it from concentrated loss unless the 2008 real estate meltdown repeats itself (unlikely); and in any case, the homes are meant to be fix-and-flips, so they won't bog down the balance sheet for very long.
The downside is at least neutrally balanced against the upside, and shares didn't deserve a near-10% selloff. Zillow has made an astounding recovery from near-term lows after posting disappointing guidance along with its Q4 earnings in February, but this pullback offers a chance for new investors to ride the recovery of a data-rich, market-leading Internet stock.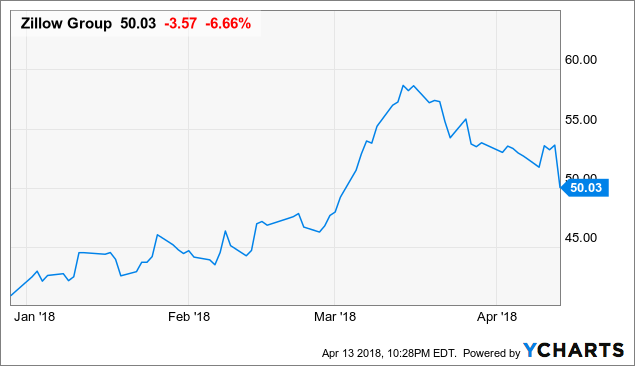 Z data by YCharts
With a current market cap of $6.93 billion after the selloff, and taking into account the $762.5 million of cash and $385.4 million of debt on Zillow's balance sheet, the company carries an enterprise value of $6.55 billion. Against Zillow's refreshed guidance of $1.43-$1.58 billion in revenues, that's an EV/FY18 revenue multiple of 4.35x – a downright steal for a company growing at 27% y/y and posting gross margins in the 90s. I'm long with a price target of $68, representing 6x EV/FY18 revenues and 36% upside from current levels.
Note that Zillow's previous revenue guidance had been $1.302-$1.317 billion for FY18 – if we treat the incremental $196 million in guidance as due exclusively to Instant Offers, and exclude it from our valuation because it's a lower-margin revenue stream, we still arrive at a price target of $60 (20% upside) based on 6x EV/FY18 revenues on purely its non-Instant Offer revenue stream. That's plenty of room for error for investors to go long.
The risk impact of Instant Offers is overstated
As we just noted, Zillow's FY18 guidance range effectively implies a nearly ~$200 million lift from Instant Offers. Based on Zillow's FY17 revenue of $1.08 billion, that's about 19 points of top-line growth attributed to this business alone. That's serious upside – and it seems almost that the upside narrative got entirely crushed and forgotten by risk worries.
Of course, we have to treat this revenue stream as "less valuable" than Zillow's core advertising and fee-based revenues. The reasons are simple: one, it's more unpredictable than Zillow's flagship business, and two, it's a lower-margin business model. A slide below, taken from an investor presentation Zillow posted to the SEC website, details how the accounting will work for Instant Offers:
Figure 1. Zillow Instant Offers accounting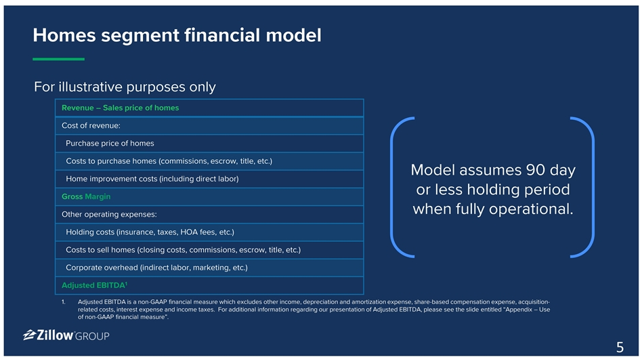 Source: SEC
Due to the low-margin nature of this business, when valuing Zillow from a revenue standpoint, we can either exclude this revenue stream or assign a lower valuation multiple to it. For conservatism, I've applied the former.
Note another salient point on this slide: Zillow is assuming it will be holding these homes for 90 days or less. These short-term holding periods and fast flips aren't likely to cause huge systemic risks in Zillow's balance sheet, as some Wall Street analysts are saying.
One more fact that minimizes the potential risk of Zillow's Instant Offers expansion: the company is particularly targeting single-family homes in Pheonix, Arizona and Las Vegas, Nevada – two particularly low-cost markets where the practice of flipping is established, especially in the latter.
According to Zillow's own data (the premise, after all, is that Zillow's proprietary home valuation technologies will allow it to earn a premium on its real estate investments), homes in Phoenix have a median price of $227,300 and homes in Las Vegas have a median price of $247,700.
Zillow has explicitly guided (also in the slide deck) that it will be holding between 300-1,000 such homes on its balance sheet by year-end. Let's say it has 500 median-priced homes in each market – that's a portfolio of $111.7 million in Phoenix and $123.9 million in Las Vegas, or $235.6 million overall. That's less than one-third of the cash and short-term investments on Zillow's most recent balance sheet, as shown below:
Figure 2. Zillow 4Q17 balance sheet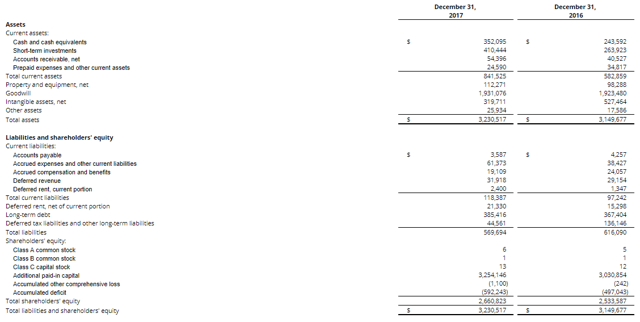 Source: Zillow investor relations
These principal investments are akin to a large company investing its cash into debt or equity securities as part of a treasury management strategy, as many companies are known to do – cash, after all, yields next to nothing. Arguably, due to Zillow's own expertise in the real estate domain, these investments are far less haphazard than typical treasury investments.
This line of argument isn't to say that Instant Offers bears no risk – in business, almost nothing is a risk-free proposition. However, in proportion to Zillow's scale and skill in real estate, the concerns are far overblown.
Guidance upside another reason to capitalize on the pullback
Let's also consider the fact that alongside Zillow's Instant Offers announcement, it also released some fresh new guidance figures ahead of Q1 earnings, expected some time in May.
Now, the full-year FY18 guidance is a bit mixed. The company raised its revenue guidance to $1.43 to $1.58 billion as previously discussed (+49% y/y at the midpoint, an increase of $196 million from the prior guidance of $1.302-$1.317 billion, presumably due to Instant Offers). However, it dropped its EBITDA view from $300-$315 million to $260-$285 million. Again, this is likely due to the unknown impacts of Instant Offers – the returns on home-flipping can vary widely or even have a negative impact on the business in the first year of the expansion. All in all, however, we have to weigh the possible upside alongside the risk.
Note that Zillow's entry into principal transactions also greatly increases its TAM – putting it in a similar business to startups like OpenDoor as well as private equity funds like Blackstone (BX), which, through its Invitation Homes (INVH) holding, snapped up hundreds of thousands of single-family homes last year.
Zillow's new opportunity gives it access to a much wider TAM as illustrated in its slide below, at just the right time when its growth is beginning to see deceleration:
Figure 3. Zillow's expanded TAM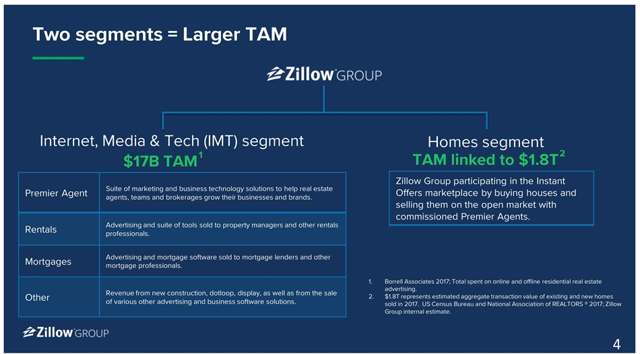 Source: SEC
Aside from the mixed FY18 guidance, Zillow also released preliminary results for the first quarter ending in March. The company is expecting to report $299-$301 million in revenues (above consensus of $295 million) and $45-$47 million of EBITDA (above its own guidance of $42-$47 million).
With a Q1 beat virtually assured, there's almost no reason not to take advantage of Zillow shares while they're low.
The key sound bite for investors: Stay long on Zillow and give it the benefit of the doubt as we wait for a ~$60-plus price target – the opportunity for upside in Instant Offers is much more appealing than the risk it entails, and even if some of these principal investments go sour, Zillow is only putting at risk less than one-third of the cash on its balance sheet.
Disclosure: I am/we are long Z.
I wrote this article myself, and it expresses my own opinions. I am not receiving compensation for it (other than from Seeking Alpha). I have no business relationship with any company whose stock is mentioned in this article.