Melbourne Comedy festival performers attacked, friend racially abused
They heard footsteps behind them and turned to see the same man coming at them with a beer bottle, both Mr Morley and Ms Kottkamp said.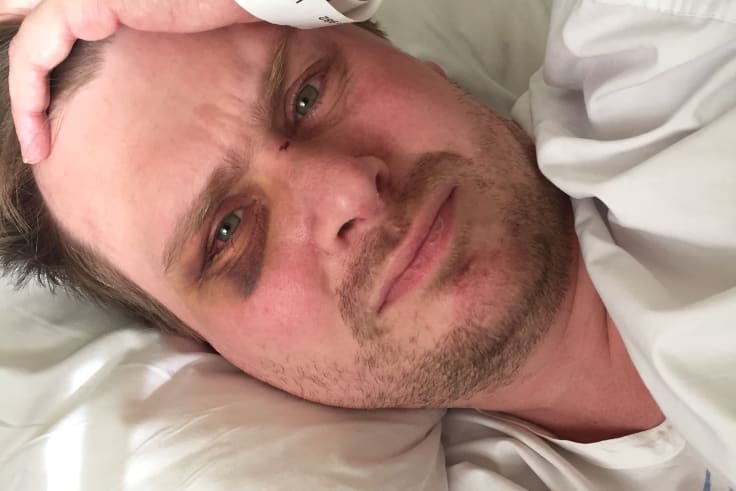 Mr Morley in hospital.
Ms Kottkamp said the man looked like he was trying to coward-punch her partner, but he turned around in time. She said Mr Morley was able to knock the bottle out of his hand before he was punched and knocked to the ground.
Mr Morley has no memory of the assault, and Ms Kottkamp said it was a blur as both herself and their friend tried to pull the man off Mr Morley several times.
Witnesses phoned police before the man ran off. He was arrested shortly afterwards.
Mr Morley suffered bruising to his face and his ankle was crushed, leaving it broken in three places.
Mr Morley spoke to The Age on Saturday from his hospital bed, where he was awaiting a third round of surgery to insert plates into his ankle.
"I didn't get head injuries, which is the main thing, it's not going to be a permanent disability, and it didn't happen in America so it didn't end up in me dying, which it may well have if it happened there," Mr Morley said.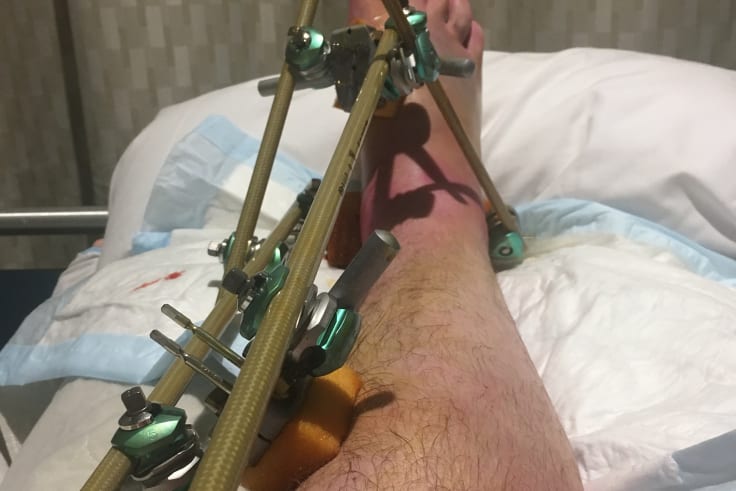 Peter Morley's ankle in a shot taken in hospital.
"We're in town to do the Comedy Festival and he screwed up two weeks of that for us for no reason. And I'm just humiliated. We [he and his friend] had been talking at work for the last couple of months about being in Melbourne and showing her around, that it's such a great city and now that's going to be her one experience of it."
Ms Kottkamp said she was proud of her partner for standing up to their attacker, but she was devastated.
"I'm overwhelmed and heartbroken. Before this it was such a fun experience, because we were doing the Comedy Festival, mingling with other comedians," she said.
"The whole time Peter was so embarrassed. He kept saying to our friend that it wasn't Melbourne, that it doesn't happen here, apologising on behalf of his city and country. He's always been proud of how tolerant it is."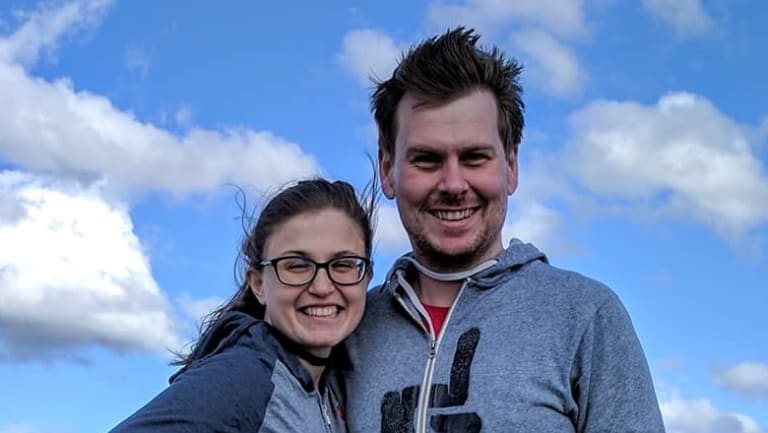 Rachel Kottkamp and Peter Morley were in town for the Comedy Festival.
Their friend has flown back to Los Angeles after her three-week holiday.
"She said 'I'm just used to it by now. It's just part of life and you have to be really tough'. It's so sad," Ms Kottkamp said.
Victoria Police spokeswoman Natalie Webster said a 20-year-old Reservoir man has been charged with intentionally causing injury, recklessly causing injury, assault with a weapon and unlawful assault. He was bailed to face court on June 19.
Mr Morley praised police for their response.
"I'm just glad they got them straight away, that's really impressive," he said.
The couple have been in Melbourne for their show, titled All Star Hollywood Big Shot Wheel of Bargains 2000!! (NOT Sex Predators), which is filmed live over Facebook at different venues. Mr Morley said they'd be filming their show from the hospital this week.

Crime reporter
Morning & Afternoon Newsletter
Delivered Mon–Fri.