Airbus Deliveries Contract In March
Each year, Boeing (BA) and Airbus (OTCPK:EADSF) engage in a fierce order battle. In 2017, Airbus won that battle by numbers, but in terms of dollar value, which AeroAnalysis ultimately considers to be more important, Boeing easily outperformed Airbus.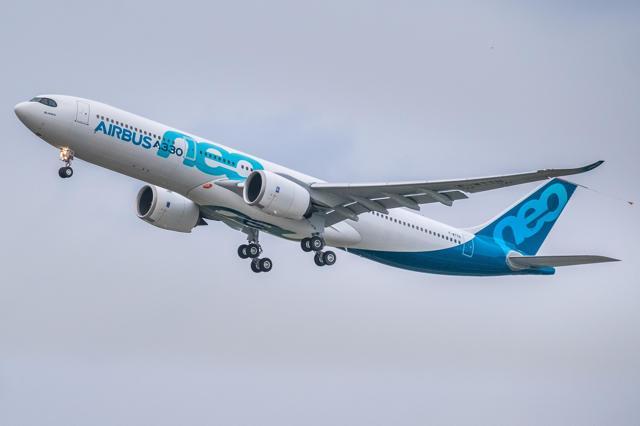 Source: Wikimedia
For 2018, Airbus expects to maintain a book-to-bill ratio of 1. By looking at the orders, we can see a combination of willingness to commit, pricing, product, and availability come together. Special attention will be paid to the mix of single-aisle aircraft and widebody aircraft, knowing that a single-aisle aircraft costs roughly half or a third of a wide-body aircraft depending on the model.
In this article, AeroAnalysis will be having a look at the order inflow and deliveries for Airbus in February. The February report can be read here if you are a PRO subscriber or is freely available to our Premium subscribers. If you are interested in the Boeing orders for February, you can find them here.
Order inflow March 2018

Figure 1: Orders Airbus March 2018
During the month of March, Airbus received a total of 8 orders:
An undisclosed customer ordered 6 Airbus A320neo aircraft.
VietJet Air ordered 2 Airbus A321ceo aircraft.
Last month, we saw Airbus booking widebody orders. In March, widebody orders remained absent once again. Turkish Airlines did sign a Memorandum of Understanding with Airbus for up to 30 Airbus A350-900 aircraft, but since this is not a firm order yet, it cannot be added to the March order tally.
The undisclosed customer order actually is a ceo-to-neo conversion, and as a result, the number of orders for the current engine option Airbus A320 went down by 6 units.
It's likely that Airbus is saving up order announcements already, but the first 3 months certainly aren't looking strong for the European jet maker.
Last year, Airbus received 25 orders in March which included widebody orders, while 8 orders were canceled. In March 2016, Airbus received 14 orders while 11 aircraft on order were scratched from the order book. Averaging the net orders for the previous two shows that the net order inflow was below average but just slightly. March tends to be a weak month for Airbus, and this year was no exception.
For March, the list price of the orders was $0.9B, but after discount, this likely is closer to $0.4B.
Deliveries in March 2018

Figure 2: Deliveries Airbus March 2018
For 2018, Airbus has set a delivery target of 800 units. In March, Airbus delivered 56 aircraft or 7 percent of the aircraft it expects to deliver in 2018:
Emirates took delivery of 1 Airbus A380.
Airbus delivered 2 Airbus A330-200 and 3 Airbus A330-300s primarily to Asian customers, Iberia being the only exception.
Airbus delivered 5 Airbus A350 aircraft, which we consider somewhat soft since a production rate of 10 aircraft is targeted by the end of the year and 7 aircraft were delivered in the same month last year.
Deliveries for the Airbus A320 families were 31 current engine option aircraft and 14 new engine option aircraft.
Year over year, Airbus Q1 deliveries decreased by 15 units. Primarily due to lower A321ceo deliveries and lower A330 and A380 deliveries, partly offset by higher Airbus A350 deliveries. A320neo family deliveries increased by 4 units, which is OK considering the problems Airbus faces on the A320neo program specifically. Compared to the annual delivery target, Airbus slipped somewhat, but we have little doubt that we will see a massive increase in deliveries by year-end.
For the A320neo, the story of a strong product with engine problem still holds. For Airbus and its shareholders, this puts a lot of uncertainty on the delivery profile of the A320neo during the year.
Book-to-bill ratio
For 2018, Airbus expects to maintain a book-to-bill ratio of 1. For Airbus, reaching desired book-to-bill ratios doesn't seem like a big challenge, but there should be more emphasis on capturing more widebody orders in the mix, especially given the challenges Airbus is facing with the Airbus A320neo. Looking at the monthly book-to-bill ratios does not say a lot, but you have to start somewhere. In March, Airbus booked 8 gross orders while delivering 56 aircraft indicating a .14 gross book-to-bill ratio. In terms of value, this ratio was .11. For the first 3 months, the gross book-to-bill ratio is .56, which means that Airbus has to step up its game in the coming months. A strong Farnborough Airshow order rain could help the European jet maker.
Conclusion
Orders remained low in March, but we are not worried about that. After all, Airbus has years of backlog, so it can easily cope with a year of low sales. A slightly bigger concern are deliveries; March deliveries contracted year-over-year due to lower deliveries on all programs. What holds for Airbus is that there is a quite bit of uncertainty regarding issues on the Airbus A320neo program because the PW1100G turbofan one of the propulsion system has ran into several issues post service-entry. We continue to believe that those problems will be fixed but still will pose a challenge as turbofan manufacturers have to deal with solving problems with turbofans that are already in service. This puts direct strain on the turbofan manufacturers and might lead to delivery delays of new Airbus aircraft. Currently, it seems that deliveries of the PW1100G propulsion system will resume in May/June while a resumption in April was initially anticipated.
Though deliveries declined, we're expecting a lot this year. Especially from the Airbus A350 for which we currently project 100 deliveries in 2018. Having the numbers is nice, but as an investor, we'd welcome clear words from Airbus on its ability to raise production of its A320neo family aircraft.
Disclosure: I am/we are long BA, EADSF.
I wrote this article myself, and it expresses my own opinions. I am not receiving compensation for it (other than from Seeking Alpha). I have no business relationship with any company whose stock is mentioned in this article.
Editor's Note: This article discusses one or more securities that do not trade on a major U.S. exchange. Please be aware of the risks associated with these stocks.