Ronda Rousey Should Have A Long Future In The WWE After Wrestlemania Debut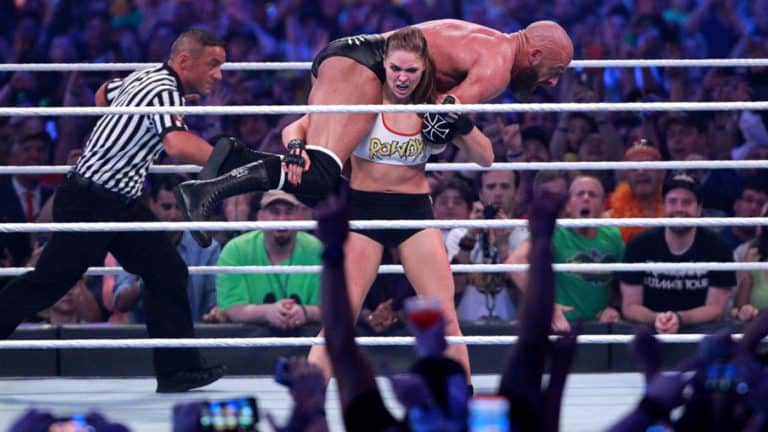 Since the announcement back a couple of months ago regarding the contract deal made with Ronda Rousey and WWE, fans and audiences were more than eager to see her make her official debut in the industry at WrestleMania. From what we saw, it would be a clear understatement to say that Rousey has proved that she is all that and a bag of chips in this new career move. In case you missed WrestleMania 34 at the beginning of the month, we are here to bring you all the details of Rousey's debut, and what it means about her future with the WWE.
Building Up That Wrestler Persona
Yes, this isn't Ronda Rousey's first time fighting; However, it is important to remember that UFC fighting is a completely different sport than that of wrestling. With that said, the fact that she completely crushed her first time in the ring, and in front of thousands and thousands of fans, is amazing to say the least. She is definitely proving her chops when it comes to this new sport, coming out with her fist held high, and gaining a huge fan following from the get go. In her debut at WrestleMania, Rousey came out wearing the classic Rowdy Roddy Piper's leather jacket and kilt getup, and made her presence known to all in the arena for sure.
GAME OVER, STEPH

➡️ https://t.co/ePt5TzD6sU pic.twitter.com/Yfl3fXUcu2

— TDE Wrestling (@totaldivaseps) April 9, 2018
What We Saw From The Fight Itself
Rousey's WrestleMania debut showed fans and audiences everywhere that she is definitely in it to win it, fighting in a tag team fight against McMahon and Triple H, with her team being completed by Kurt Angle. Rousey definitely took quite a hard beating throughout the fight, being taken out of the ring multiple times by both McMahon and Triple H, but she was able to prove what she's got in the end, sealing the deal with Rousey locking McMahon in an armbar hold while Angle was able to hold Triple H in an ankle lock. The opposing pair eventually tapped out in their holds, and gave Rousey the victory that was well deserved. With her stamina and grit, we can only imagine what her future fights and career will look like as she continues on in the WWE.
GET EEEEEEEEEEEEEM

➡️ https://t.co/ePt5TzD6sU pic.twitter.com/UvmgRwptFZ

— TDE Wrestling (@totaldivaseps) April 9, 2018
Although some of her first appearances in the wrestling ring were not quite as strong, and didn't have as much professional appeal, it is clear to see that Ronda Rousey is going to be a force to be reckoned with as she continues on in this business. Her WrestleMania debut has shown the world what she is truly made of, and what she is going to do in the future of wrestling in general. We think we can speak for fans and audiences everywhere that we are more than excited to see her career really take off as the season continues. If you would like to see clips and video from WrestleMania 34, and more specifically, Ronda Rousey's debut fight as part of the WWE, you can find all of that footage and more all across social media and the web.