Don't Buy Tesla, Instead Consider 'TESLA'
After the large decline in Tesla (TSLA) from recent highs, I thought it would be a good idea to provide alternative ideas to owning shares of Tesla that generate income, have less stress and could help recover some losses for Tesla shareholders who are in the red. My alternative idea is to invest in 'TESLA'…not Tesla the company/stock, rather a group of dividend-growth companies making up the acronym 'TESLA'.
| | | |
| --- | --- | --- |
| T | (TRV) | Travelers |
| E | (ETN) | Eaton |
| S | (SBUX) | Starbucks |
| L | (LMT) | Lockheed Martin |
| A | (AMT) | American Tower |
What makes 'TESLA' better than Tesla the company?

#1: Dividends
Each of the companies in 'TESLA' has a history of increasing dividends and currently all five have a yield above 1.97%, which is the current yield for the S&P 500 (SPY). By owning these companies, you are getting paid as time goes on. I will provide a visual overview of each individual dividend further on in my article. With Tesla, there is no income generation for your portfolio, unless you own the Tesla bonds or use various options strategies.

| | |
| --- | --- |
| | Dividend Yield |
| Travelers | 2.08% |
| Eaton | 3.36% |
| Starbucks | 2.04% |
| Lockheed Martin | 2.34% |
| American Tower | 2.10% |
| | |
| S&P 500 Dividend Yield | 1.97% |
#2: Less Stress
Tesla is a battleground stock, with passionate supporters on both sides. Due to the fact that Tesla is a battleground stock, there are a wide range of emotions and ups and downs that come with owning a stock like Tesla. This makes owning a company like Tesla a stressful proposition, given how quickly things can change and how large price swings can be. I'm reminded of this quote from Trading Places.
One minute you're up half a million in soybeans and the next, boom, your kids don't go to college and they've repossessed your Bentley. ~Trading Places
For those investors looking to avoid stress, that brings up the question of whether there are metrics available that can help investors avoid stress. There are two simple tests I like to use to determine how stressful it might be to own a specific stock. The first test is to try to avoid stocks that have a high level of short-interest. The following table from FinViz shows short-interest data for each of the companies I will be covering as well as Tesla. As you can see, short-interest on these companies is minimal, while Tesla short interest stands at nearly 23%. By this measure, Tesla is 11.66x more stressful to own than the average of this group of companies.
| | |
| --- | --- |
| | Short Interest |
| Travelers | 1.78% |
| Eaton | 2.44% |
| Starbucks | 2.69% |
| Lockheed Martin | 1.33% |
| American Tower | 1.52% |
| | |
| Tesla | 22.77% |
Finviz
#3: Profitable Growth Opportunity
Many investors who are bullish on Tesla point to the future being great and substantial revenue growth continuing as the Model 3 is ramped and the expectation of future growth from the Model Y and the Tesla Semi. These investors do not mind the lack of profits and many times use the comparison to Amazon (AMZN) and their early history of being unprofitable. The problem with that comparison is that Amazon saw the light and was able to monetize AWS, which is huge driver of profits for Amazon. One can imagine how much lower the share price of Amazon would be had they not been able to monetize AWS and significantly grow profits over the last 5 years. In the end, profitability always wins out, even though it might take a long-time (a decade) for the market to arrive at that realization, eventually it does.
Each of the 5 companies that make up 'TESLA' have revenue growth, just no where near the level of revenue growth that Tesla has. That difference is balanced out and exceeded by the fact that each of these companies are profitable and return cash to shareholders.
| | | |
| --- | --- | --- |
| | Revenue Growth Y/Y | Pre-Tax Profit Margin (ttm) |
| Travelers | 3.59% | 9.45% |
| Eaton | 7.11% | 16.51% |
| Starbucks | 5.95% | 19.23% |
| Lockheed Martin | 10.07% | 10.32% |
| American Tower | 10.65% | 18.85% |
| | | |
| Tesla | 43.89% | -18.79% |
Gurufocus

Paying a dividend is not enough
While paying a dividend is nice, each of these companies have fundamentally strong businesses that can withstand the test of time. This is where investors who are chasing yield get crushed, since they are blinded by the yield and do not see the fundamentals deteriorating underneath. An example of this is CBL Properties (CBL), which many investors and authors on Seeking Alpha thought had a safe dividend but the dividend was cut because of deteriorating fundamentals. My personal rule that I adhere to, is if a stock has a yield over 10%, the dividend is not safe and is at risk of being cut.
For each component of 'TESLA' I will be going over why each company was selected for inclusion. In addition, I also provide a chart for each company showing the nice stair stepped dividend growth that each of these companies have provided to investors. I also created this tool for readers; it shows a rough estimate of how many years of dividends it would take to recover a loss from a poor performing investment, either from selling your current investment or holding onto your existing dividend paying one.
Travelers
Travelers has a diversified business across a wide variety of segments of the insurance market. The first two charts below illustrate that fact, by showing that business insurance has many segments they target and personal insurance is split nearly 50/50. What makes Travelers attractive is that its three largest sub-segments of the overall company: Home insurance, auto insurance and workers compensation all have positive trends behind them. Home insurance has strong housing demand behind it, which was recently highlighted by Lennar (LEN) in their recent earnings release showing a large increase in deliveries and backlog. Auto Insurance, has strong demand behind it as the average age of cars on the road is north of 10 years and recent strong demand as shown by March sales from General Motors (GM). Finally, workers compensation has strong demand given that we are at or near full-employment and the recent ADP Jobs report showed job growth is still strong.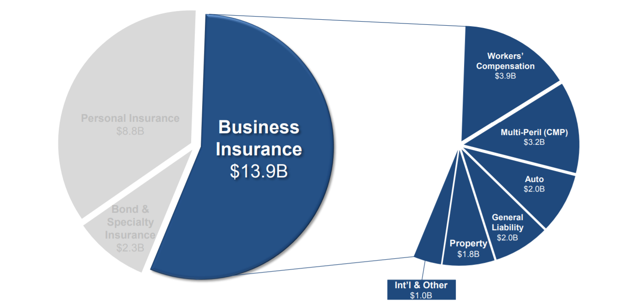 Travelers Investor Presentation

Personal Insurance Breakdown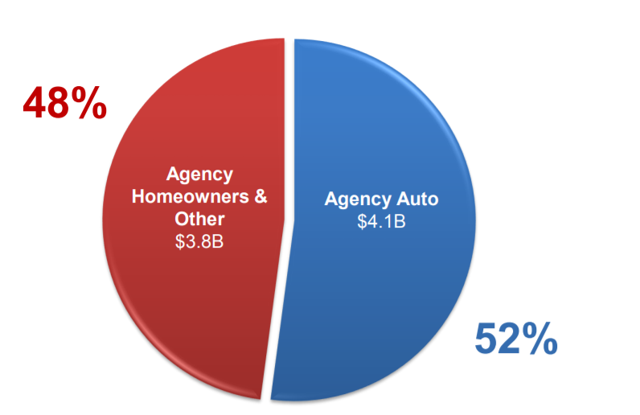 Travelers Investor Presentation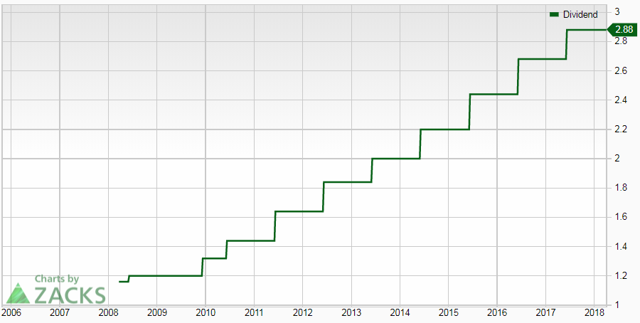 Zacks Fundamental Charts
Eaton
Eaton is a diversified industrial company that focuses on current key growth areas as well as future growth areas. The following image illustrates the multiple businesses that Eaton operates in as you can see these areas are all key growth areas.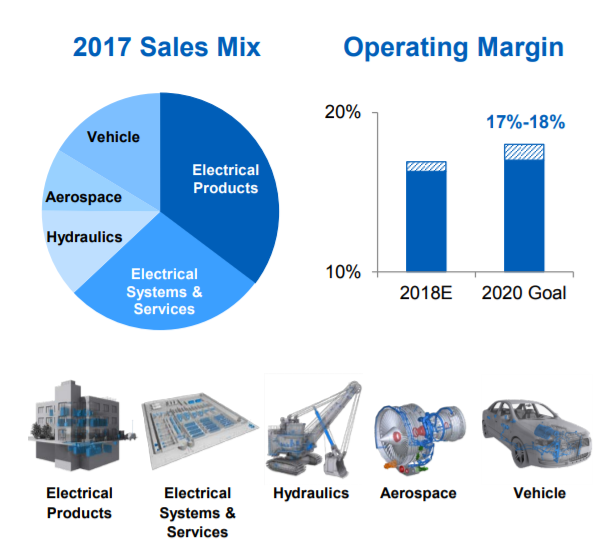 There is a constant need for electrical products and systems given the importance of technology in business. Hydraulics could see an uptick in business if there is an infrastructure bill passed. Vehicle growth remains strong worldwide given the expected increase in demand for vehicles as more people come into the middle class. The first chart below shows that the circuit breaker market, which Eaton is a big part of is expected to continue to grow. It is not just circuit breakers, in general electrical equipment demand will continue to grow as there is a constant need for new electrical equipment and/or updating old equipment. The second chart below shows global new car sales are expected consistently grow into the future. As electric vehicles become more prevalent, naturally there will be more electronic components within those vehicles and within the charger networks/stations for those vehicles.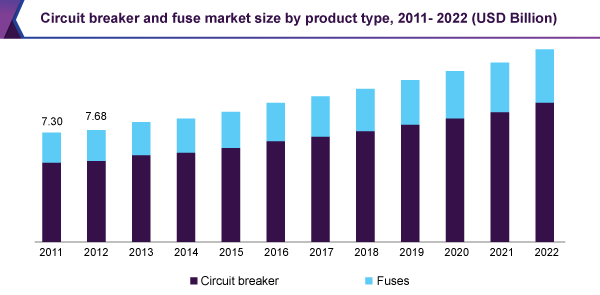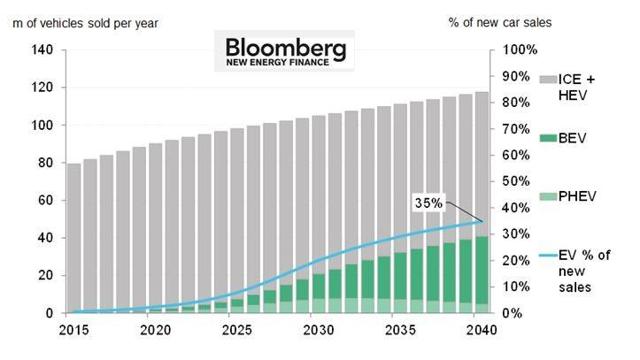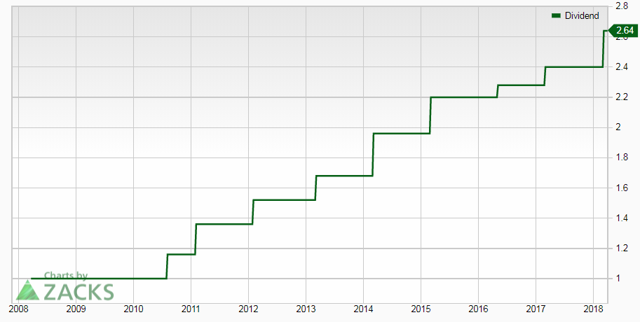 Zacks Fundamental Charts
Starbucks
Starbucks has many growth opportunities in the United States and around the world, specifically in China. Starbucks is expanding its offering of cold brewed drinks and in its recent investor presentation they noted that their goal was to double their food business by 2021. When it comes to China, the following image from the investor presentation shows the potential growth opportunity Starbucks has in China. As more people move into the middle class in China, companies like Starbucks are in a good spot to be at the heart of the increased spending from that group.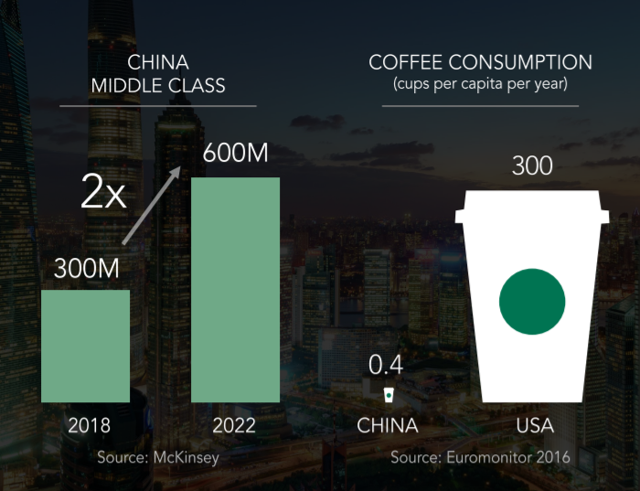 Starbucks investor presentation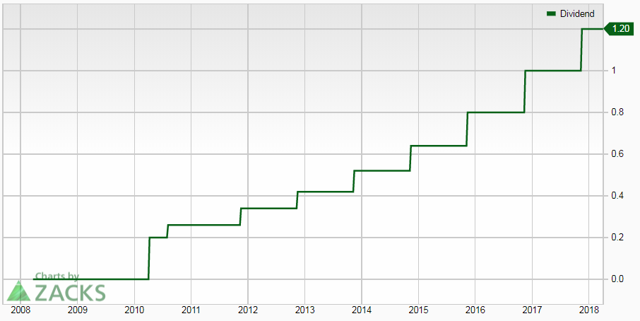 Zacks Fundamental Charts
Lockheed Martin
Lockheed Martin stands to benefit from increased defense spending in the United States and around the world given the increase in geopolitical issues. Two particular areas that Lockheed Martin stands to benefit most from are missile defense and aeronautics (a.k.a the F-35). Lockheed Martin is the company behind the popular T.H.A.A.D missile system that is designed to intercept ballistic missiles. For aeronautics, the F-35 is the largest driver of growth for the company and given global tensions, I expect there to be strong demand. Evidence of this comes from just over a month ago, where Japan ordered an additional 20 F-35's on top of the 42 that they had already ordered.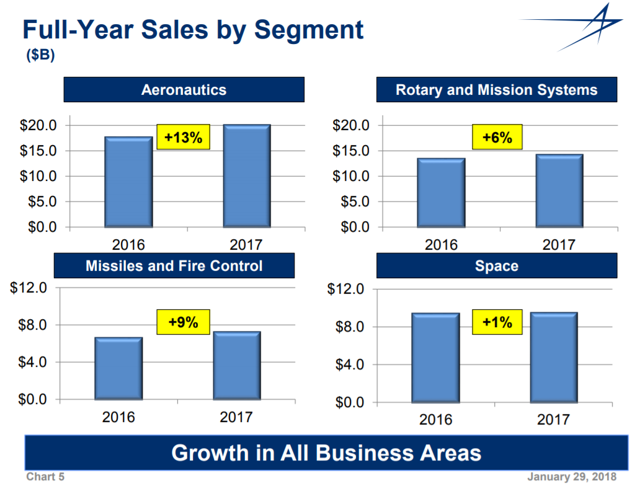 Lockheed Martin earnings presentation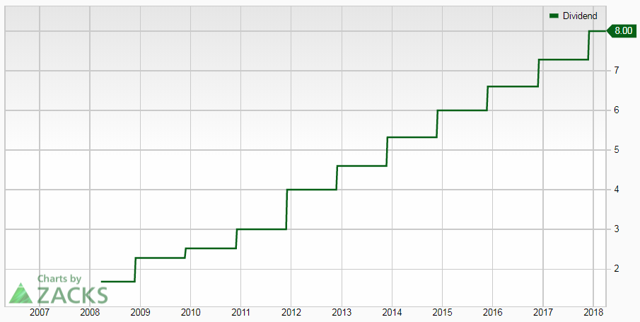 Zacks Fundamental Charts
American Tower
I believe American Tower and other cell-tower REITs are in the best position to survive a rising rate environment because of the growth prospects that they have. Data usage from mobile devices, IOT, autonomous vehicles, etc will continue to increase at a rapid pace. The following chart from Ericsson shows that data traffic from mobile devices will continue to increase significantly over the next five years and that is with 5G networks not even being fully deployed.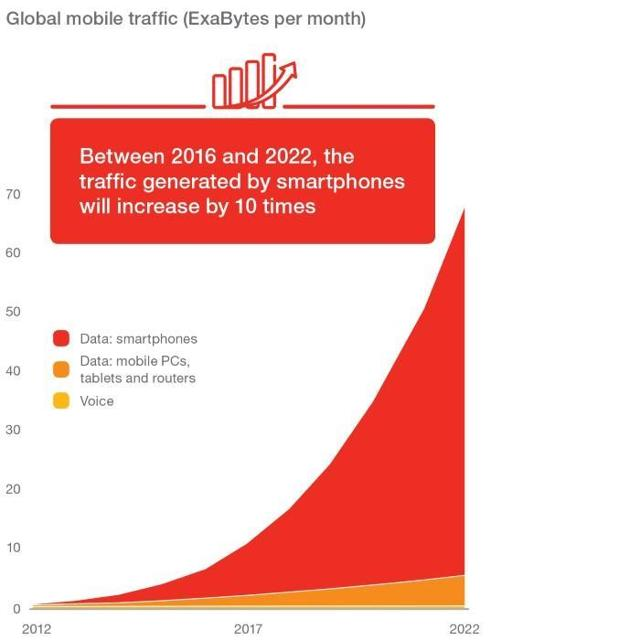 Ericsson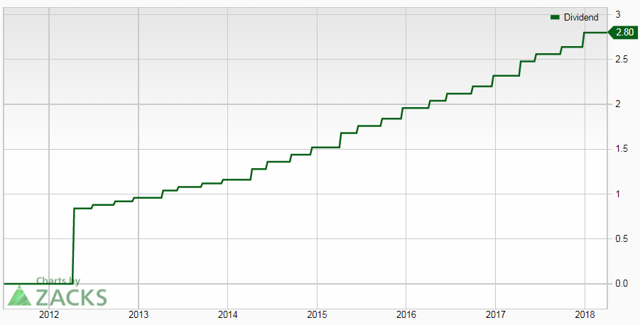 Zacks Fundamental Charts
'TESLA' Risks
Travelers Risk
With Travelers, the biggest risk comes from an increase in claims from policyholders. The statement below from the Q4 earnings call shows that an unexpected disaster like the California wildfires can be a drag on results because of the losses.
Cat losses were $324 million after tax compared to only $89 million in the prior year quarter. This $235 million increase was driven by losses from the California wildfires. ~Travelers Q4 2017 Earnings Call
Eaton Risk
Given the current environment, China is a potential risk for Eaton since they are expanding their local operations. In a recent investor presentation, they noted they were expanding their electrical components presence in China. Since electrical products make up the largest portion of revenues for Eaton, this will be something to watch out for going forward.
Expanded localized electrical components in China from 30% to 70%. ~Eaton investor presentation
Starbucks Risk
For Starbucks the biggest opportunity for growth is China, however, that is also its greatest risk. Given all the potential trade issues and the stance/requirements of foreign companies, operating in China there is the potential for results to be impacted. For example, just in the food/restaurant space, McDonalds (NYSE:MCD) sold their Chinese operations last year and Yum Brands (NYSE:YUM) split off management of China locations via Yum China (NYSE:YUMC).
Lockheed Martin Risk
With any defense contractor there is the risk of a decline in government spending on defense, which changes from administration to administration. Right now we are in a time of increased defense spending, however, that can easily turn around if the makeup of the senate & house changes this November. Another risk specific to Lockheed Martin is the F-35, which is the next generation fighter jet. The problem is that it is expensive and thus susceptible to cuts in an environment where a new senate/house would be looking to cut spending. Since there are more than 2,000 F-35's expected to be produced, it would be an easy target for cutbacks.
American Tower Risk
For American Tower, one risk is increasing interest rates, since the company operates in a capital-intensive business and has taken on a large amount of debt. As debt is rolled over, the new debt will likely have a higher interest rate at a higher rate than existing debt. Demand for connectivity will continue to increase and thus American Tower will have to spend on new tower locations.
Closing Thoughts
In closing, I believe all 5 companies that make up 'TESLA' are worthy of further research and consideration by investors because they provide revenue growth, profitability, an above market dividend yield, dividend-growth and fundamentally strong businesses with growth prospects. As I noted, owning Tesla can be a stressful endeavor and there are no signs that these wild swings will subside.

Disclosure: I/we have no positions in any stocks mentioned, and no plans to initiate any positions within the next 72 hours.
I wrote this article myself, and it expresses my own opinions. I am not receiving compensation for it (other than from Seeking Alpha). I have no business relationship with any company whose stock is mentioned in this article.