WrestleMania 34 results: The Undertaker returns to crush John Cena in three minutes and end retirement talk
The Undertaker came out of retirement to face John Cena at WrestleMania 34 on Sunday night, 370 days after he appeared to call time on his WWE career, but his triumphant return did not come without its controversy.
Having been trashed by 16-time world champion Cena in recent weeks as he attempted to earn a fight at the Granddaddy of them All against the Deadman, The Undertaker made a surprising return to confront Cena midway through Sunday night's event.
But it looked at first as though Cena would be disappointed. Having started the night off sat at ringside among the fans, Cena was informed by a referee that 'Take was in the building and had agreed to fight him. An hour later, the Leader of the Cenation rushed to the ring ready to fight, but when the lights went out there was not gong, no chills and no sign of The Undertaker.
WWE WrestleMania 34 – in pictures
Instead, Elias appeared with his guitar, and after making his way to the ring that Cena had cleared to return to his seat in disappointment, he persisted to insult the WWE Universe that evidently rubbed Cena up the wrong way. He rushed back into the ring, knocked Elias into next week with an AA, celebrated half-heartedly and left the ring to head backstage, only for the lights to go out again.
This time there was the gong, this time there was the chills and this time, The Undertaker's hat, gloves and coat appeared in the ring exactly where they had been left at WrestleMania 33 following his defeat by Roman Reigns. Two bolts of lightning struck them, and when the lights came back up, they were gone.
They had been reclaimed, the Deadman had risen, and seconds later he rose through the stage before making his way to the ring to face Cena. From the moment that The Undertaker appeared to the moment the bell rang to start the fight took panned out over four minutes of euphoria among the crowd. Sadly, that feeling was gone three minutes later.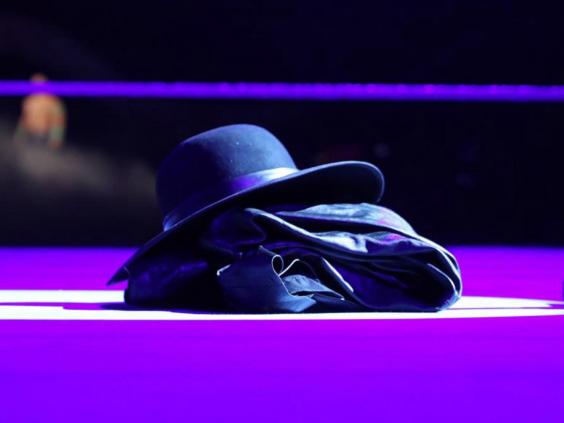 Barely landing a punch, Cena was crushed. The Phenom emptied his playbook – first there was Old School, followed by Snake Eyes, a big boot and leg drop. Then came the Chokeslam and, finally, a Tombstone. Undertaker pinned Cena, the three count came and went and everyone was left stunned that one of the most dominant wrestlers in WWE history had been legitimately beaten inside three minutes.
There was no emotional send-off of fanfare as The Undertaker left the ring, with only his trademark look back and fist-raise marking his departure, and whether it's the trigger for a long-term feud between Undertaker and Cena remains to be seen.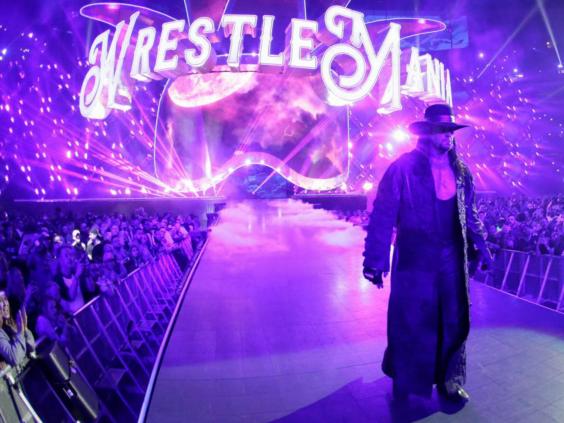 But having been given such an emotional send-off last year, many fans were unhappy with both the decision to bring The Undertaker back and the manner of his return.
Undertaker's quickest wins at #WrestleMania:

– defeated @JohnCena, 2018 – in under 3 minutes
– defeated Jimmy Snuka, 1991 – in under 5 minutes
– defeated @JakeSnakeDDT, 1992 – in under 7 minutes
– defeated King Kong Bundy, 1995 – in under 7 minutes

— WWE Stats & Info (@WWEStats) April 9, 2018
Now I REALLY don't understand what the point of Undertaker at #WrestleMania34 was.

That is definitely not the Taker vs John Cena match everyone has been wanting to see.

Should've left it alone after WM33, imo. #WrestleMania #WrestleMania

— Jaredogden212 (@jaredogden212) April 9, 2018
Writer: We have 30 minutes to kill. What should we put in there?

Vince: The Undertaker!

Writer: A 30 minute undertaker match? Great!

Vince: Yeah, but make sure his entrance takes up 26 minutes of that.

Writer: But-

Vince: And add Elias in there somewhere#wrestlemania

— Tim Rose Tweeting (@TimRoseTweeting) April 9, 2018
Totally Disappointed. I Respect The #Undertaker and I am happy for him
But Cena struggled so much for this match and he gets this 2 minute match… At least it could have been more entertaining 😕😐.
Not expected this at #WrestleMania34 pic.twitter.com/CFSTl3gBm9

— ❤CENA FAN FOREVER❤ (@WWEKaushikCena) April 9, 2018
Cena is of course beginning to cut down on his in-ring time, with increasing Hollywood commitments and 19 years of wrestling taking its toll on his body. The Undertaker already wrestles just once a year, and given that his so-called retirement last year proved to be anything but, a future feud between these two superstars could end up dragging on for another 12 months.
Follow the Independent Sport on Instagram here, for all of the best images, videos and stories from around the sporting world.
Reuse content~Source reference~