WrestleMania results: Ronda Rousey makes stunning debut as she defeat Triple H and Stephanie McMahon
Ronda Rousey made not only a winning debut in the WWE, but did so with a stunning performance to go toe-to-toe with veterans Triple H and Stephanie McMahon by displaying her phenomenal strength and tactical prowess to team with Kurt Angle and defeat The Authority at WrestleMania 34.
The former UFC bantamweight champion caused a stir among the WWE when she joined the company after suffering destructive back-to-back defeats in the Octagon, which effectively ended her mixed martial arts career, and although her appearance at the Royal Rumble in January came with its controversy, her arrival triggered a buzz to see how she would cope in sports entertainment.
But Rousey answered her critics emphatically on Sunday night by not only picking up the win but by doing so emphatically.
WWE WrestleMania 34 – in pictures
After a stirring entrance from Triple H and wife Stephanie upon motortricycles, Angle returned to the WrestleMania scene for the first time in 13 years, but the ovation was nothing compared to what greeted Rousey. At first, the 31-year-old appeared overawed by the occasion, with a beaming smile on her face as she made her way to the ring in an outfit paying homage to her late hero Rowdy Roddy Piper, but from the moment she stepped in the ring her expression resembled that seen throughout her dominant UFC reign.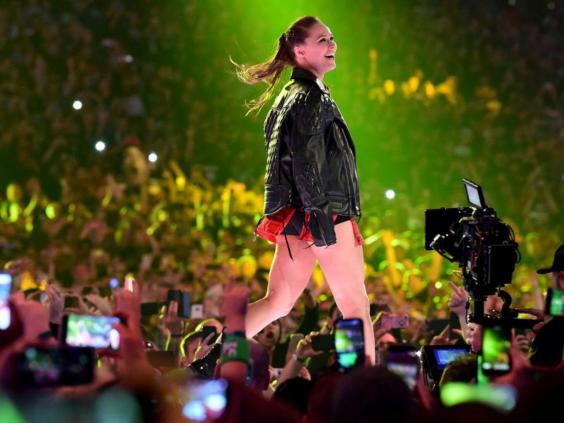 With Angle and Triple H taking a stroll down memory lane as they started off the match, fans eagerly awaited the turn of Rousey to get her hands on Stephanie, only for the latter to attack Rousey before the match started and again during it to prevent Angle from making the tag. But when Rousey eventually forced her way into the ring with Triple H laid out, Stephanie had nowhere to run.
What followed was not just what was expected as Rousey delivered a flurry of punches and strikes that you would come to expect from a former UFC great, but she picked Stephanie up onto the shoulders, slammed the 'The Boss's Daughter' to the canvas and followed it up with an impressive Hurricanrana and flipped through a pin to lift Stephanie up from behind her.
The bout, which was expected to be something of a Rousey promo affair, proved to be an enthralling display that left the 78,133 fans inside the Mercedes Benz Superdrome chanting "This is Awesome", and when Triple H and Stephanie lined Angle and Rousey up for a double-Pedigree, the tables turned. Triple H was flipped out of the ring, leaving the rookie to once again attack Stephanie, but when The Game returned after laying out Angle to confront Rousey, many fans will have feared the worst.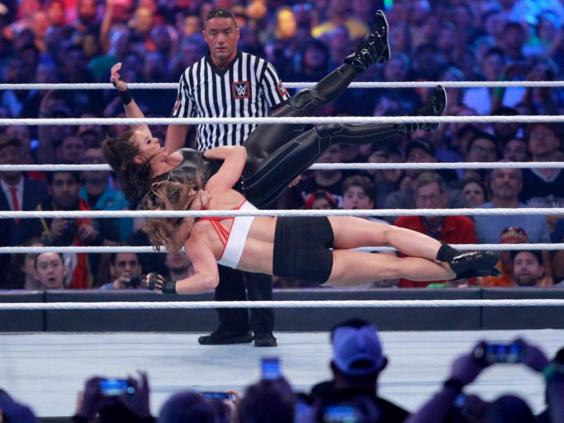 But without giving Triple H a moment to breathe, Rousey attacked The Game, backing him into the corner with a series of punches, and as Triple H attempted to kick her Rousey swept his leg out from beneath him, before hoisting the King of Kings onto her shoulders. Stephanie prevented her husband from being slammed into the canvas, but with Angle again take HHH out of the ring, it was left for Rousey to lock in an armbar and force McMahon to tap out.
As Rousey celebrated with Angle, the beaming smile back on her face after achieving a childhood dream, and medics tended to Stephanie's injured shoulder, you got the clear feeling that this is Rousey's new home, and she might just stick around for a while yet.
Follow the Independent Sport on Instagram here, for all of the best images, videos and stories from around the sporting world.
Reuse content Source reference