Smartsheet Seeks $100 Million In US IPO

Quick Take
Smartsheet (SMAR) intends to raise $100 million in an IPO, according to an S-1 registration statement.
The firm has developed a suite of collaboration tools for enterprise teams across numerous functions to more efficiently accomplish their work product goals.
SMAR is growing quickly but isn't showing the path to profitability that one would expect from a top SaaS candidate.
I'll provide a final opinion when we learn management's pricing and valuation assumptions.
Company
Bellevue, Washington-based Smartsheet was founded in 2005 to 'build a universal application for work management that does not require coding capabilities.'
Management is headed by President and CEO Mark Mader, who has been with the firm since 2006 and previously held various leadership positions at Onyx Software.
Smartsheet has developed a robust channel partner program as well as a significant list of integrations with major platforms and relevant services that extend its capability into existing enterprise workflow systems.
The firm's investors include venture capital firms such as Insight Ventures (32.1% pre-IPO stake), Madrona Ventures (28.4%), and Sutter Hill Ventures (5.4%). Investment received to-date totals approximately $138.6 million.
Technology
Smartsheet has created a suite of spreadsheet-like modules for various company functions, including:
Customer Service
Project Management
Business Process
Marketing
Budget & Planning
Facilities Management
Below is a brief overview video of Smartsheet's approach:
(Source: Smartsheet)
Customer Acquisition
Smartsheet sells its subscription service via an 'unassisted' self-serve model on its website as well as through inside sales and a field sales team for higher value enterprise selling.
Management says the 'blended go-to-market model allows us to serve a larger, diverse user base without incurring excessive costs.'
Smartsheet claims more than 92,000 customers, with 90 of the Fortune 100 and ⅔ of Fortune 500 customers.
Customer acquisition cost trends are as follows:
Total Cost of Revenue (%)
FYE 2018: 19.5%
FYE 2017: 21.0%
FYE 2016: 21.0%
Sales and marketing expense as a percentage of Total revenue (%)
FYE 2018: 65.5%
FYE 2017: 59.7%
FYE 2016: 69.6%
So, the firm is gradually reducing its Cost of Revenue percentage, but its Sales and marketing expenses as a percentage of Total revenue have been uneven and for two of the last three years well within the range of 65-70%.
This indicates a potential higher Sales and marketing expense trend as a percentage associated with growth in revenues, suggesting that as the firm grows, it is becoming less efficient in its Sales and marketing efforts.
Market
According to a market research report by MarketsandMarkets, the business process management market is expected to reach $13.52 billion by 2021, representing a CAGR of 14.2% from 2016.
The SME segment is forecasted to grow the fastest of any subgroup in the report due to their desire to 'achieve better operational productivity' and lower their 'operational costs' associated with that productivity enhancement.
North America is expected to contribute the largest demand while the APAC region will provide substantial growth opportunities.
Competition
Major competitive vendors that provide similar software in terms of end-user needs include:
Appian (APPN)
IBM (IBM)
Software AG (OTC:SWDAF)
Oracle (ORCL)
Pegasystems (PEGA)
Red Hat (NYSE:RHT)
OpenText (OTEX)
Tibco Software
Verisae
Asana
Workfront
Atlassian (TEAM)
Planview
Financials
SMAR's recent financial results can be summarized as follows:
Strong top-line revenue increase
Increasing gross profit dollars
Slightly increasing gross margin percentage
Uneven cash flow used in or from operations
Below are the company's operational results for the past three years (Audited GAAP):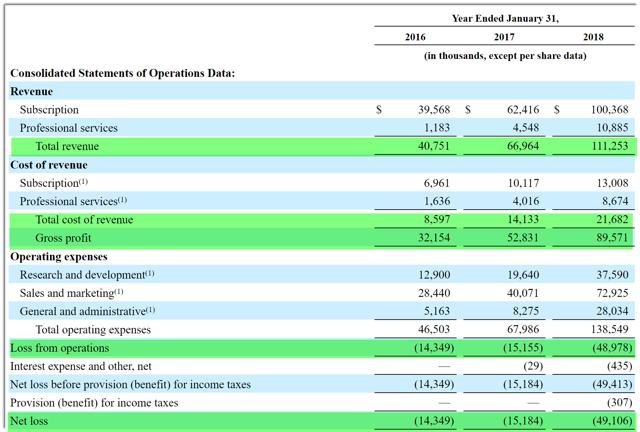 (Source: Smartsheet S-1)
Revenue ($)
FYE 2018: $111.3 million, 66% increase vs. prior
FYE 2017: $67 million, 64% increase vs. prior
FYE 2016: $40.8 million
Gross Profit ($)
FYE 2018: $89.6 million
FYE 2017: $52.8 million
FYE 2016: $32.2 million
Gross Margin (%)
FYE 2018: 80.5%
FYE 2017: 78.8%
FYE 2016: 78.9%
Cash Flow from Operations ($)
FYE 2018: $13.6 million cash used in operations
FYE 2017: $58,000 cash flow from operations
FYE 2016: $6.7 million cash used in operations
As of January 31, 2018, the company had $58 million in cash and $84.7 million in total liabilities.
IPO Details
SMAR intends to raise $100 million in gross proceeds from an IPO of its Class A common stock.
The IPO will offer Class A shares, which will be entitled to one vote per share vs. ten votes per share for Class B shares.
Multiple share classes are a way for existing management and shareholders to retain voting control even if it loses economic control of the company in the future.
The S&P 500 Index no longer admits firms that have multiple share classes.
Management says it will use the net proceeds from the IPO as follows:
The principal purposes of this offering are to increase our capitalization and financial flexibility, create a public market for our Class A common stock, and facilitate future access to the public equity markets for us and our shareholders.
This is boilerplate language that effectively says nothing meaningful about how management intends to use the proceeds from the IPO.
Management's presentation of the company roadshow is not yet available.
Listed bookrunners of the IPO are Morgan Stanley, J.P. Morgan, Jefferies, RBC Capital Markets, Canaccord Genuity, William Blair, and SunTrust Robinson Humphrey.
Expected IPO Pricing Date: Not on calendar.
An enhanced version of this article including my commentary on the IPO is available on my Seeking Alpha Marketplace research service, IPO Edge. I write in-depth research about U.S. IPOs and members learn the latest IPO research, news, market trends and industry analysis. Start with a Free Trial.
Disclosure: I/we have no positions in any stocks mentioned, and no plans to initiate any positions within the next 72 hours.
I wrote this article myself, and it expresses my own opinions. I am not receiving compensation for it (other than from Seeking Alpha). I have no business relationship with any company whose stock is mentioned in this article.
Editor's Note: This article discusses one or more securities that do not trade on a major U.S. exchange. Please be aware of the risks associated with these stocks.