Quantifying The Impact Of Facebook's Recent Stumbles
Introduction
There have been a huge number of articles (over 20) posted on Seeking Alpha discussing Facebook's (FB) share price decline in the wake of the Cambridge Analytica saga ("CA saga"). These articles have had very divergent opinions but in so doing have provided a holistic view on the issues afflicting Facebook and its management team. Whilst the situation is undoubtedly a public relations disaster, the manner in which it has been reported has been sensationalistic to say the least.
From my own perspective as a Facebook user, there is nothing that I share online voluntarily that I feel is compromised from these events. In my opinion, blaming Facebook effectively absolves people of their collective responsibility to critically evaluate attempts to influence (which have been prevalent since the dawn of politics).
As I am also long Facebook shares, I am left to consider why others feel differently and how those thoughts could manifest into action (such as deleting accounts or new regulation) that could materially alter Facebook's value proposition as an investment. The purpose of this article is therefore not around discussing the moralities of what has occurred (which, as mentioned above, I feel is overblown, but to each his/her own). Instead, it is an attempt to provide an impartial numerical evaluation as to whether the drop in Facebook's share price is warranted based on fundamentals.
Figure 1 – Facebook Has Dropped 13% In The Last Month: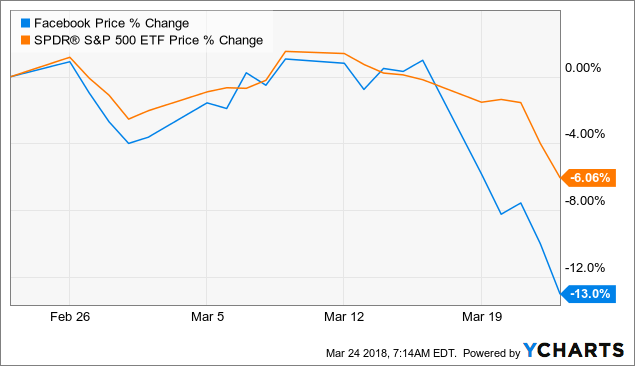 FB data by YCharts
Source: YCharts
Facebook's Operating Model
Facebook is a relatively easy business to understand. Between Facebook, Instagram, Messenger and WhatsApp, the company has four of the most widely used applications in the world. These applications provide a platform for users to interact with each other in a convenient, user-friendly manner, and have largely complementary user bases. The simplicity and network effect of Facebook's products is essentially the reason for its wide-scale use. People use these various applications because their friends and family use them, which is what gives the company its moat.
With over ~2.1bn monthly active users ("MAUs") and an enormous amount of personal information voluntarily added by users on the various platforms, Facebook has become a phenomenal advertising medium and has consequently grown its annual revenue to over $40bn. There are many professionals who believe it is the best platform in the world, due its incredible reach and ability to provide relevant, bespoke and targeted ads.
Figure 2 – MAUs Are Over 2.1bn Globally…

Source: Facebook Investor Presentation
The Potential Impact Of The CA Saga
As advertisers base their willingness to market via Facebook's products on expected reach, engagement and relevancy, it follows that any reduction in users, engagement and/or information sharing ability would reduce Facebook's attractiveness as an advertising medium. Punitive regulation would also hurt Facebook, which could come in the form of fines and more stringent requirements on the business that will likely increase costs.
Rightfully or wrongfully, Facebook has seen a very public backlash in the market with #deleteFacebook briefly trending on Twitter (TWTR), a wave of negative and critical articles published in the news and high-profile businessmen like Elon Musk even deleting his company's Facebook pages. We can therefore reasonably expect a few million (easily outraged) people to delete their Facebook accounts (many of whom could do so permanently), which one would need to consider in projecting Facebook's future growth prospects.
There have been talks about a potential fine of $2 trillion, which is insane and highly unlikely. My expectation is something far more sensible and befitting of the "crime" (which was actually Cambridge Analytica's deceit), perhaps in the region of a few hundred million, which could be dealt with relatively easily given Facebook's ~$41bn of cash resources. I would be very surprised to see anything higher than $2bn in expenses being incurred by the company in the form of fines and legal suits, but as I am no expert in the matter, perhaps this is why other investors' have panicked?
The Financial Model
I have built what I would deem to be a stress case model with bearish assumptions regarding the future performance of Facebook given recent developments. In the model, I assume the following occurs in 2018:
Net loss of 20 million people in the US & Canada from users deleting their Facebook product accounts (i.e. 8.4% of current MAUs). Therefore, if you have 500 Facebook friends, expect about 42 of them to be gone under this scenario.
A further net loss of 20 million people in Europe from users deleting their Facebook product accounts (which is 5.4% of MAUs), therefore a total 40m reduction in users the US, Canada and Europe.
Outside of these developed market economies, I would be very surprised to see users leaving Facebook's applications as aggressively as the above. As someone from a developing market economy, there is certainly far less coverage of the Facebook "scandal" than in the US and Europe.
I therefore expect Net MAU growth of 1% in Asia Pacific and the rest of the world, which translates into 15m net growth from 1,520m to 1,535m MAUs. This is a substantial deceleration from previous years so takes into account some account deletions, but this should be more than offset by net additions.
The net loss in MAUs globally would therefore be 25m (or ~1.2%) under this conservative scenario, leading to a reduction in Facebook's overall market share from 28.2% to 27.6% in 2018. Personally, my Facebook friend count is unchanged, so I regard this scenario as particularly prudent.
ARPU growth should remain strong across the board, as there should be a lag in advertiser's marketing spend reduction as compared to user decline. In addition, I expect Instagram and Messenger's increasing ARPU should have a net positive impact on the company's overall ARPU. Further, given how disproportionately low the ARPU outside of the US & Canada is relative to the home market, I would expect this discrepancy to normalize over the course of the next 10 years to be more representative of the purchasing power parity in the respective regions. Facebook should therefore remain an excellent platform to advertise with market penetration of between ~27% and ~30% globally.
After 2018, I expect Facebook to continue on a more moderated user growth trajectory, as the CA saga becomes stale in the minds of users and the platform grows largely in line with population growth. My forecasts for Facebook MAU, market share and ARPU is therefore as follows:
Figure 3 – Revenue Growth Assumptions: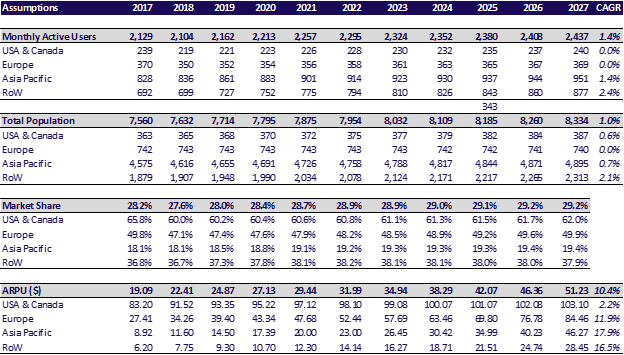 Source: Author Model with population stats guided by World Population Projections – Worldometers
From the above, I have calculated the company's expected revenue, which feeds into the model (average MAU multiplied by average ARPU). I have also assumed a significant decline in profit margins in 2018 (from ~57% to ~49% for EBITDA) due to Facebook increasing its investment in security, maintenance and data protection as well as an increase in tax payable to factor in any proposed EU revenue tax of 3%. Over time, the margins should recover back to FY17 levels due to the company's operating leverage from increased scale and AI enhancements to facilitate improved cost efficiency. This is shown below:
Figure 4 – Income Statement Assumptions:

Source: Author assumptions
The resultant income statement and balance sheet would look as follows, assuming that a portion of excess free cash flow is used to buy back shares going forward. Otherwise, the assumptions (regarding capex and working capital) are largely the same as per my original model on Facebook published on Seeking Alpha.
Figure 5 – Model Output: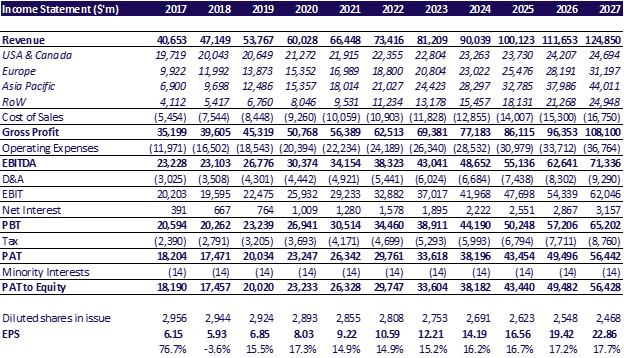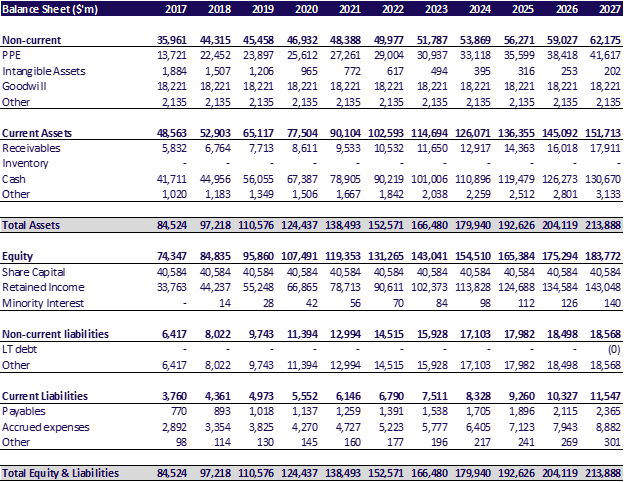 Source: Author modeling
Model Outputs
This would result in Facebook achieving the following salient metrics in 2027 under these conservative forecasts:
Revenue of ~$125bn
EBITDA of ~$63bn
EPS of $22.86
Cash and marketable securities on balance sheet of ~$131bn
PPE of ~$42bn
No long-term interest-bearing debt
I would further expect that Facebook would attract an exit P/E multiple of around 20x (earnings yield of 5%) due to its blue-chip status, international diversification and exposure to higher growth regions globally. The strong net cash position would also mean that an investment in Facebook would carry virtually zero financial risk and have "option" value from deployment of such cash into accretive opportunities including acquisitions.
Assuming no dividends are paid, it would mean an exit share price of $455 per share, or an IRR from today's share price of 11.1%. For a stress case, this is an incredibly attractive return!
Personally, I believe this scenario to be highly conservative, and would assume far more robust growth for a base case model. I believe there is scope for Facebook's Asia Pacific penetration to hit 25% to 30% (after factoring in zero penetration in China), and up to 45% in the rest of the world (i.e. primarily Africa and Latin America). Further, ARPU in Asia Pacific and Africa could increase to up to 60% of US & Canada ARPU as the world becomes more digitized, advanced and affluent.
There remains upside and blue-sky potential for Facebook's valuation from monetizing WhatsApp in line with Tencent's (OTCPK:TCEHY) monetization of WeChat, Oculus and associated virtual reality product sales (growth option) and subscription based content investments (as discussed in a previous article). Of course, Facebook is also sitting on a huge cash pile (over $40bn as at December 2018) which could be deployed to make value additive acquisitions too.
Conclusion
On a like-for-like basis, my view is that Facebook is more of a buy today than before the CA saga. I feel the impact of the CA saga on the fundamentals of the company is far less material than what the share price decline would suggest, and is therefore an example of irrational/emotional selling. Having said that, sentiment is usually the biggest contributor to short-term share price fluctuations. I therefore expect that the noise from the CA saga will continue to plague Facebook's share price in the near term, with recent macro issues (i.e. the trade war concerns) further exacerbating overall stock market valuations.
I would therefore recommend waiting for an entry point around $145-150, from which one could generate a stress case IRR of up to 12%. There is however a risk that Facebook is already at the bottom. Given my expectation for a far more robust return on a base case (than the stress case IRR of 12%), people without any direct Facebook exposure should consider biting the bullet and buying at today's levels, as long term, the fundamental value of this business should realize attractive returns. Personally, I am holding on to my shares, and will keep buying as opportunities arise going forward.
Disclosure: I am/we are long FB.
I wrote this article myself, and it expresses my own opinions. I am not receiving compensation for it (other than from Seeking Alpha). I have no business relationship with any company whose stock is mentioned in this article.