Is Google Feeling The Heat Of Facebook's Data Leak Scandal?
Facebook (FB) is yet to recover from the data leak scandal that started nearly three years ago but only broke the surface earlier this week. The stock is still under pressure, as I indicated that it could be in my recent article titled: Facebook's Data Scandal: There's Your Sign. Alphabet (GOOG) (GOOGL), which is the current king of data and also makes its money mostly from advertising just like Facebook, is already a ripe target for regulators and lawmakers in Europe and the U.S. Will the repercussions of Facebook's ordeal whiplash and hit Alphabet in the face as well?
My stand is that it will, and we could already be seeing the ill effects of poor data integrity bleeding into investor sentiment at Google. But I'm also here to tell you that this scandal represents an opportunity to get these highly valued stocks at a much better price point. In a nutshell, buy when the media madness is at its most frenzied, and lawmakers and regulators are furiously champing at the bit. Which is now.
Before we get into the specifics of why Google, just like Facebook, is going to head towards "business as usual" sooner or later, let's look at the nucleus of the whole problem: user data.
If you think there's such a thing as user data privacy, you've got another think coming. Data is what drives information technology companies like Google and Facebook and, at the risk of overgeneralizing, you might say that data drives much of the world's economy as we know it today. These entities thrive on billions and billions of data points about their users. Any piece of data you put out on the Internet is automatically public knowledge. There may be levels of security preventing unauthorized persons from gaining access to it, but that depends on how you define "unauthorized." Moreover, cyber security breaches are already at all-time highs.
In Google's case, as in Facebook's, it's all laid out in the terms and conditions. The excessively litigious – hence, legalistic – nature of modern society is such that it demands a CYA mode of thinking; in other words: "To take preemptive steps to make sure that you don't get into trouble with anyone." That's why you see warning labels like this one: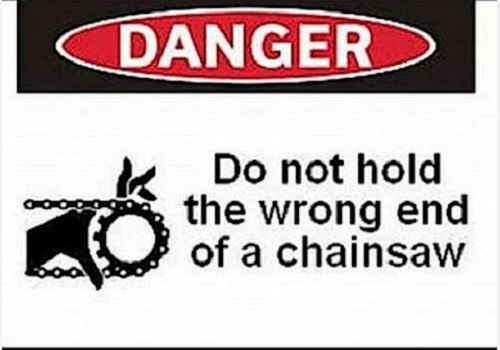 Source: Smosh
The warnings about how your data is used, unfortunately, are a lot more subtle. And, to be fair, Google even tells you what types of data it collects and how it uses that data. Here's a short list of what information it already has about you if you use any of its products:
Things you search for

Websites you visit

Videos you watch

Ads you click on or tap

Your location

Device information

IP address and cookie data

Emails you send and receive on Gmail

Contacts you add

Calendar events

Photos and videos you upload

Docs, Sheets, and Slides on Drive

Name

Email address and password

Birthday

Gender

Phone number

Country
That's not an exhaustive list, mind you. It's just scratching the surface. Every bit of information you put into any Google application or property essentially goes into the company's massive data centers around the world.
Now, is that data safe? For the most part, yes, at least the part that lives deep in Google's highly protected data centers. However, the amount of data that has been compromised has been on the rise for a while. Specific to Google, a study by the company itself has shown how serious the problem of data leakage really is within its ecosystem of products and services:
With Google accounts as a case-study, we teamed up with the University of California, Berkeley to better understand how hijackers attempt to take over accounts in the wild. From March 2016 to March 2017, we analyzed several black markets to see how hijackers steal passwords and other sensitive data.

Our research tracked several black markets that traded third-party password breaches, as well as 25,000 blackhat tools used for phishing and keylogging. In total, these sources helped us identify 788,000 credentials stolen via keyloggers, 12 million credentials stolen via phishing, and 3.3 billion credentials exposed by third-party breaches.
As a reasonable human being, would you say your data was safe whether it was in Google's or Facebook's most secure data centers? Or that of any large tech company, for that matter, not to mention financial institutions, retailers, advertising companies, consumer goods manufacturers, insurance companies, hospitals and other organizations that regularly collect and utilize user data of all types? Most likely not.
Now for the question of why I think these companies will survive these testing times.
To see why data-driven services are going to be resilient to government action and even public outcry, let's quickly look at the size of just a few of this emerging market's components.
Data-driven marketing contributed $202 billion in revenue to the U.S. economy in 2014. A report by the Direct Marketing Association revealed this:
Third-party data is becoming more important for data-driven marketing, estimating that services that rely on third-party data have risen in net value "added by $12 billion, or 39% relative to 2013," the report said. Further, value added by services that don't directly rely on servicing first-party data rose 24%. And what's more is that nearly $102 billion of revenue in the sector — almost 500,000 jobs — depend on individual-level third-party data, per the report.
The Internet of Things, or IoT, is also a data-driven segment, and it is expected to be a $457 billion market by 2020, growing at a CAGR of 28.5%.
In fact, more businesses than ever are becoming more data-oriented and data-driven, which is borne out by the fact that big data analytics is already a $130 billion market expected to grow to $203 billion by 2020, per IDC.
That's just three market segments that depend on data – and lots of it. If you consider emerging technologies like autonomous vehicles, connected cars, smart homes, smart cities and so on, we're looking at trillions of dollars in revenue across the globe over the next several decades.
With that much at stake, user data is undoubtedly this millennium's greatest asset. Knowledge truly is power like never before.
Against that backdrop, which government, lawmaker or regulator do you think is going to hurt the biggest data-centric companies and risk an economic fallout? I agree that regulatory pressure will certainly tighten, as it should, but to say that Facebook and Google are going to collapse because of these restrictions is, in my opinion, akin to a premature doomsday prediction with little substance to validate it.
The only way these companies are going to go belly up is if users start to leave en masse. That hasn't happened to Facebook yet, and it certainly hasn't happened to Google. Yes, the more paranoid of us might shut down our Facebook accounts or opt for more anonymous browsers, but millions of users aren't going to abandon the things they spend the most time on when online: browsing, email and social media.
Google's stock troubles aren't directly related to the regulatory environment, either. Its recent woes started right after the fourth quarter earnings miss despite the fact that it was because of a one-time tax hit. To be fair, other factors have since contributed to the continued downward pressure on Alphabet's stock, not the least of which is Eric Schmidt stepping down as chairman. But Alphabet's ongoing troubles with regulators and a generally soft tech market are equal contributors.
Some economists like BNP's chief market economist Paul Mortimer-Lee and senior economist Bricklin Dwyer are even painting a bleak picture for the overall tech industry:
The change in sentiment towards companies like Facebook could bring about higher taxes and greater regulation that reduces the companies' profits and leads to a fundamental repricing of the stocks and the overall tech sector in the market.

"[The large tech companies] are the most mobile internationally and they're the ones that have succeeded most spectacularly minimizing their tax burden, and I think people are after them now," Mortimer-Lee told Yahoo Finance at the bank's midtown headquarters.
Now, against this macro backdrop of privacy concerns, tax issues, regulatory conflict and investor uncertainty is the fact that Alphabet and Facebook have evolved from being technology companies to being advertising companies. And the digital advertising companies of today thrive on data. Indeed, they subsist on a diet of data, and grow stronger by gathering consumers for that data. Advertisers have made these companies the giants they are today, and advertisers aren't going to sit by and see lucrative revenue channels get muffled by the noise of regulatory or privacy worries.
As content consumption steadily moves towards online and mobile, the ad dollars have followed. And that's where they're going to stay.
That's the biggest reason I think Alphabet and Google will both survive this storm and emerge stronger. Yes, they will be muzzled to a degree, as they should, but not to the extent that their respective stocks are going to stay down forever.
A bit of proof comes from Equifax (EFX). After news broke in September 2017 about 143 million U.S. consumer records having been compromised the stock fell from $142 to $92, losing nearly 35% market cap overnight. Today EFX is trading at $117 – about the same level as it was trading at the same time last year. Since the news of the breach the stock has been climbing steadily up.
The problem faced by Facebook is very likely going to spill over into Alphabet's plate because of their similar revenue models. It may be more prolonged and even more pronounced than Equifax's trouble because of the scale of data they work with. But at the end of the day – whenever that is – the dust must necessarily settle and the data-driven companies of the world that are increasingly propping up the global economy must go on with their business.
My assertion: the tech industry is already a volatile environment, but investors put in their hard-earned money into it nonetheless. Although the recent trouble with Facebook could lead to major changes in the way companies handle user data, it's not going to change the way data is used to improve the quality of life and the overall online experience. And, as long as that remains true, companies like Alphabet and Facebook will necessarily grow stronger with time.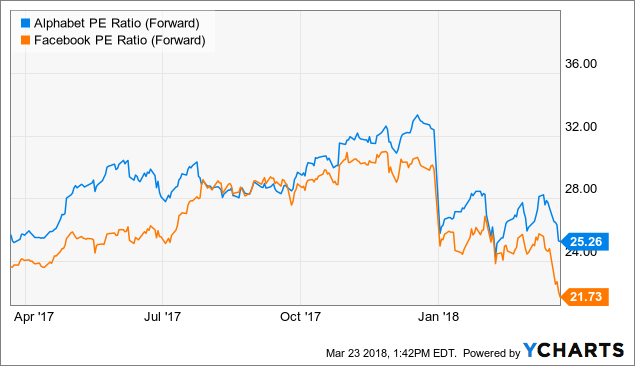 GOOG PE Ratio (Forward) data by YCharts
Disclosure: I/we have no positions in any stocks mentioned, and no plans to initiate any positions within the next 72 hours.
I wrote this article myself, and it expresses my own opinions. I am not receiving compensation for it (other than from Seeking Alpha). I have no business relationship with any company whose stock is mentioned in this article.