Alibaba: Fierce Battle With Tencent And Amazon In Southeast Asia
Alibaba Doubled Down On Its Investment In Lazada
The media went into overdrive on the doubling down of Alibaba's (BABA) investment in Southeast Asia's e-commerce leader Lazada. Readers should note the distinction in purpose between the initial $2 billion investment and the subsequent one. The former was used to buy out the shares from the then-investors including Rocket Internet (OTC:RCKZF) and Tesco (OTCPK:TSCDF)(OTCPK:TSCDY). The current $2 billion is presumably for deployment into capital expenditures, talent acquisition, working capital, etc, i.e. for operational and strategic purposes. Needless to say, despite the two funding phases having the same quantum, this batch of funds should lead to more visible results. The success of Alibaba in tapping on the growth opportunities from ex-China markets is essential for keeping up with its strong revenue growth. Since its IPO, Alibaba has increased its revenue by almost 300 percent, while Amazon (AMZN)'s revenue growth pales in comparison at 128 percent.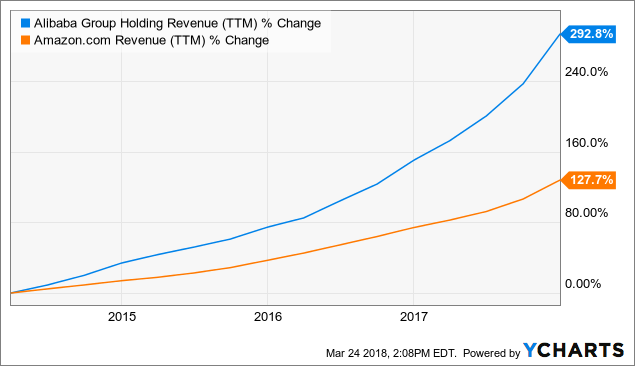 BABA Revenue (TTM) data by YCharts
Unfortunately, critics have labeled the fund injection as a nefarious maneuver by Alibaba to inflate Lazada's valuation. Given that Alibaba already owns 83 percent of Lazada, with its $2 billion investment previously, a further $2 billion for the remaining stake would certainly bump up its returns several folds, at least on paper. The question is, who would Alibaba perform this show for? Mass-market investors? Those market players able to move the needle on Alibaba's share price will not be fooled. It is coming to the point of annoyance that whatever Alibaba or Jack Ma is executing is being misconstrued as part of some elaborate plan to artificially boost up the share price. I am appreciative of those who uncover genuine issues and I was glad to have the opportunity to address point-by-point concerns raised by a blogger exalted by a prominent short-seller in Alibaba: Dear Muddy Waters, Here Are My Responses.
Interestingly, the $2 billion fund injection is actually not for increasing its 83 percent in Lazada. Its ownership percentage would be unchanged. Apparently, the media grabbed readers' attention to Alibaba's additional investment but failed to mention the remaining shareholders would come out with their fair share ($410 million). This is understandable, since Temasek Holdings, the sovereign wealth fund of Singapore, and the management team of Lazada are the only investors still holding their Lazada shares. These two parties are likely to cause distraction when mentioned together with Alibaba in the headlines and better to leave out. Thus, the accusation of Alibaba doing this deal for nefarious reasons does not hold water and is distracting investors from the real issues at hand.
Who Is Lucy Peng And What Can We Expect From Her?
While the doubling down in its Lazada investment is significant, what could prove more impactful is the appointment of Lucy Peng to replace the incumbent CEO Max Bittner. Just who is Lucy Peng? While Jack Ma is easily the most recognizable face for Alibaba, there are actually 18 co-founders originally, of which Lucy is one. Lucy is also revered in the finance industry due to her instrumental role in building Ant Financial Services into the juggernaut that has captured the lion's share of the mobile payments market and is central to Alibaba's multi-purpose credit scoring system.
The presence of heavyweight Lucy is a strong indication of the seriousness placed by Alibaba's leadership on facing the competition head-on in Southeast Asia. Lucy needs to ensure that Lazada could hold its own against Amazon which has entered the Southeast Asian market via its Singapore launch last year. For now, Lazada has the head start and it offers more than 30 million products compared with tens of thousands on Amazon's Prime Now. However, Amazon is, of course, ramping up rapidly. Alibaba also needs to trump against Shopee, the e-commerce platform owned by Sea Ltd. (SE) which in turn is backed by e-gaming and social media giant Tencent (OTCPK:TCEHY)(OTCPK:TCTZF). Interestingly, besides being present in Southeast Asian countries (Indonesia, Malaysia, Philippines, Singapore, Thailand, and Vietnam), Shopee is also available in Taiwan. In Sea's IPO prospectus, the company cited data from a Frost & Sullivan report that Shopee was ranked top in market share in "Greater Southeast Asia" during the first half of 2017.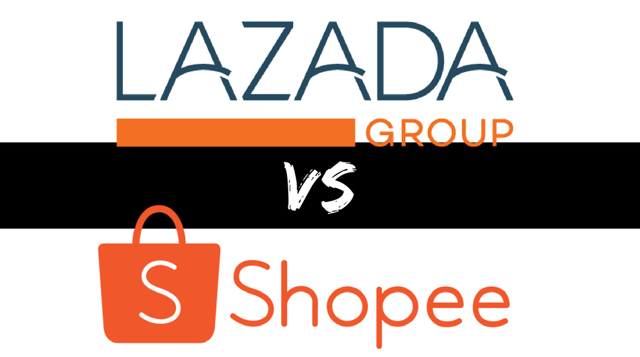 (Source: TechinAsia)
The New Battlefront In Mobile Payments
The threat from Sea is not just from Shopee. Sea has developed its own payments service named AirPay. Thanks to a successful IPO last October which raised about $1 billion, Sea has the firepower to develop AirPay in Southeast Asia and beyond. This is where Lucy's experience in popularising Alipay to the Chinese consumers come into play. Alipay has seen early successes penetrating the payments space in Southeast Asia. Last August, Alibaba announced that the 242 Starbucks (SBUX) stores in Malaysia will soon accept Alipay as a form of payment. However, despite many more partners in the region accepting Alipay, it remains limited to servicing Chinese nationals presently. This itself is not a bad thing, given the fast-rising number of Chinese travelers traveling independently, meaning that a lot of payments such as for meals and transportation would not be prepaid to a tour agency. Furthermore, Chinese tourists have been heading for Southeast Asia in large droves, with many countries in the region among the top destinations.
At the same time, the competition continues to be hot on its heels. For instance, just less than seven months after Alipay was made available as a payment option in the taxi fleet of Singapore's largest transportation company Comfortdelgro (OTCPK:CDGLF)(OTCPK:CDGLY), WeChat Pay, the payments service of Tencent, announced passengers can also use it to pay for the fares from April. Grab, the Uber of Southeast Asia, which is backed by the Japanese multinational conglomerate holding company Softbank (OTCPK:SFTBY)(OTCPK:SFTBF), has also recently introduced its own mobile payments service, GrabPay. Other alternatives include FavePay, NETS Flashpay, Singtel Dash, and AIS mPay.
Conclusion
Alibaba's doubling down on its Lazada investment does not come as a surprise to keen observers of its moves in Southeast Asia. Alibaba began investing in Singapore's postal leader SingPost in 2014 and subsequently increased its stake in 2017. It also has a wide-ranging partnership with CapitaLand (OTCPK:CLLDF)(OTCPK:CLLDY), one of Asia's largest real estate companies based and publicly listed in Singapore. To ensure its revenue can continue to grow at a rapid pace, Alibaba recognizes the need to expand aggressively beyond the Chinese domestic market. Its appointment of a heavyweight figure in Alibaba to Lazada represents the strong determination of the e-commerce giant to succeed in Southeast Asia, whether in terms of capturing the online shopping opportunities or the battle over the mobile payment services.
What's your take? Readers who make a comment will have access to the comment thread indefinitely. Hence, please freely share your thoughts, let me know if you found this article useful, or provide your feedback in the comments section.
Author's Note: Thank you for reading. If you would like a refreshing take on stocks that you own or are interested in, try looking here. Besides US companies, I cover a number of Asian stocks as well. If you wish to be informed of my new ideas via email so that you have time to read them before the articles get locked behind a paywall 10 days from publication, please click on the "Follow" button below the title and select "Receive email alerts" when accessing on a desktop computer.
Disclosure: I am/we are long CDGLF, BABA.
I wrote this article myself, and it expresses my own opinions. I am not receiving compensation for it (other than from Seeking Alpha). I have no business relationship with any company whose stock is mentioned in this article.
Editor's Note: This article discusses one or more securities that do not trade on a major U.S. exchange. Please be aware of the risks associated with these stocks.