Prince Harry, Meghan Markle Were Totally Creeped Out By A Fake Foot
Britain's Prince Harry and his fiancee Meghan Markle were photographed looking understandably horrified while looking at bloody and decaying prosthetic limbs during a recent visit to Northern Ireland. The royal couple met with representatives of the Titanic FX company who showed off a fake severed foot, some decaying hands and a creepy doll's head right out of a horror film. Titanic FX makes prosthetics to be used as props for films and television shows, including the hugely popular Games of Thrones.
Prince Harry and Meghan Markle were visiting Northern Ireland's next generation science park, Catalyst Inc. in Belfast as part of a pre-wedding tour around the United Kingdom. This is the royal couple's first joint visit to Northern Ireland. 
Photographs show Prince Harry grimacing at the prosthetic limbs and one photo in particular has grabbed the Internet's attention.
 
We are LOVING Prince Harry and Meghan Markle's response to our Prosthetic Limb display at @CatalystIncHQ on Friday. Their react was the same as most people who encounter our products. #Priceless#HarryandMeghan#TheRoyalCouplepic.twitter.com/rg3StCwZ1i

— Titanic FX (@FxTitanic) March 25, 2018
Titanic FX posted a closeup picture of what Prince Harry and Meghan Markle were looking at and frankly, this little display of horrors is totally creepy. 
Take a look for yourself:
 
When you see what Prince Harry and Meghan Markle were looking at close up, you can see why were freaked them out a little. #HarryandMeghan#ProstheticLimbs#TitanicFX@HRHHenryWindsor@KensingtonRoyal  @PARoyal@RoyalFamilypic.twitter.com/FSWG7tzRM7

— Titanic FX (@FxTitanic) March 25, 2018
Here's another picture in case you weren't freaked out already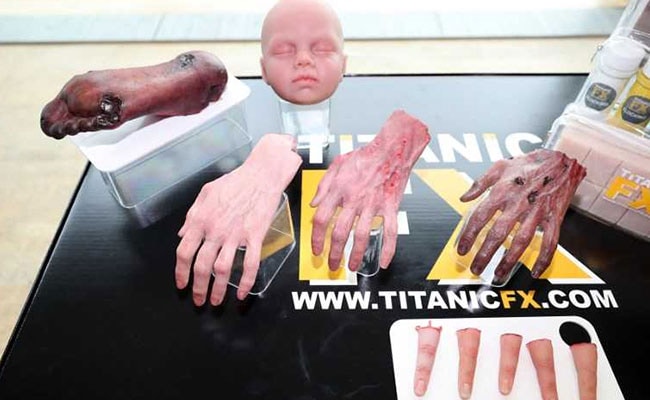 Prince Harry's reaction to the prosthetic limbs had Twitterati amused:
 
The expression on Harry's face is priceless.

— stardust24 (@stardust24) March 24, 2018
He really should learn to toe the line and put his best foot forward. He's coming across like a real heel.

— Kevin Berger (@BergerBooksNet) March 24, 2018
"I DID ask for his head, but I suppose this will have to do…"

— Kittenfuud (@1wingwalker1) March 24, 2018
Meanwhile on Twitter, Nuala Campbell, the founder and Managing Director of Titanic FX wrote: "What a pleasure it was to meet both Prince Harry and Meghan today. I really hope all my prosthetic prop limbs didn't freak them out too much."
Responding to comments on Twitter, Ms Campbell explained she was thrilled at Prince Harry and Meghan Markle's response to the fake limbs. "Love seeing people's response to my products and their response is no different to anyone else's. It means I'm doing my job right when they squirm," she tweeted.
33-year-old Prince Harry and 36-year-old Meghan Markle, star of the US TV show "Suits," are set to tie the knot at Windsor Castle, west of London, on May 19.
Prince Harry is fifth in line to the British throne after his father Charles, brother Prince William and William's children Prince George and Princess Charlotte.
He will be bumped down to sixth place once Prince William's wife Kate Middleton gives birth next month. 
Click for more trending news