Nike Is Starting To Look Even Better
It was better than I had been expecting.
Nike (NKE) reported results of its third quarter of fiscal 2018 this Thursday, after the bell. Revenues of $8.98 billion topped consensus by a sizable $140 million. The solid top-line results did not catch me off guard, given robust consumer spending during the important shopping season as I had mentioned last week. Non-GAAP EPS of $0.68 was substantially higher than consensus $0.53, particularly as (1) margins came in relatively strong and (2) a low, single-digit effective tax rate must have caught most by surprise.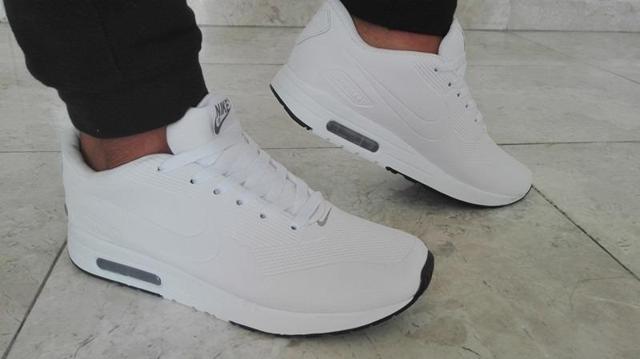 Credit: Mercado Libre
On the results of the quarter
It seems like Nike leveraged two of its key areas of strength to produce the impressive results of the quarter: DTC (direct-to-consumer channel) and the international business. Greater China, for example, saw footwear and apparel sales grow a robust 21% and 36%, respectively. A weak dollar, however, contributed a good bit to the revenue upside. Without FX, I estimate that Nike's revenues would have been a much more timid $8.73 billion.
Perhaps surprising me the most was Nike's gross margin, still down 64 bps in the YOY comparison but resilient at 43.8%. Last quarter, for example, gross margin of 43.0% had dropped over one percentage point. Better yet, currency headwinds were blamed for much of the softness, which I find encouraging as the pressures speak little to Nike's operations. Solid profitability put to rest, at least for now, concerns that I had on more pronounced margin deterioration.
Adjusted opex rose in the double digits, which might look worrisome to some at first glance. However, investments in the direct channel and increased marketing spend to support the brand and innovation efforts should be expected by those investing in the stock. In the end, adjusted op margin of 13.0% looked in line, if not an inch ahead of my expectations. Helping to produce the large EPS beat was a non-GAAP effective tax rate of only 9.1% that I doubt many analysts and investors had been counting on. Had the tax rate been the same 13.8% of last year, I estimate that earnings per share would have landed three cents below the reported number.
See below a summary of Nike's P&L results in fiscal 3Q18.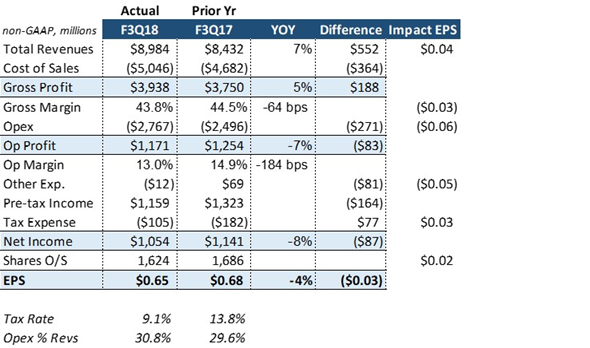 Source: DM Martins Research, using data from company reports
My thoughts on the stock
I had already turned mildly bullish on NKE, starting around November of last year. Yet, I had been reluctant to fully embrace the investment opportunity due to margin pressures and a sluggish North America division that, to be fair, continues to look largely unimpressive to me.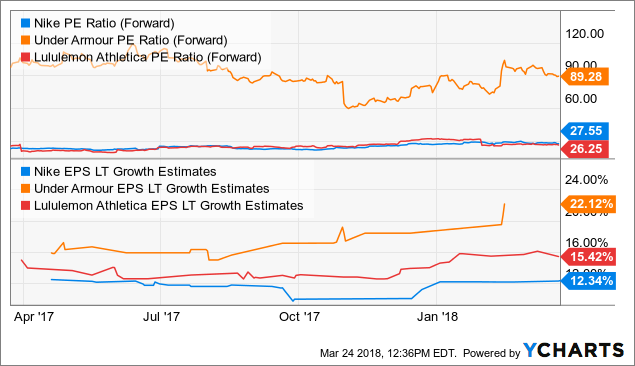 NKE PE Ratio (Forward) data by YCharts
Now, and following results that I find very robust, I am more comfortable calling NKE a solid investment in the sports apparel and retail space. The company owns a brand that is unlikely to lose its global appeal any time soon, while its DTC channel seems to be a good response to challenges facing retailers in general, like the Amazon (AMZN) and death-of-mall threats.
All these positive attributes come at a price that, while not low, I find justifiable: forward P/E of 27.6x that is on par with peer Lululemon's (LULU) 26.3x and PEG of just over 2.0x. As a result, I continue to find NKE one of the most interesting, high-quality plays to consider in this space.
Note from the author: If you have enjoyed this article and would like to receive real-time alerts on future ones, please follow D.M. Martins Research. To do so, scroll up to the top of this screen and click on the orange "Follow" button next to the header, making sure that the "Get email alerts" box remains checked. Thanks for reading.
Disclosure: I/we have no positions in any stocks mentioned, and no plans to initiate any positions within the next 72 hours.
I wrote this article myself, and it expresses my own opinions. I am not receiving compensation for it (other than from Seeking Alpha). I have no business relationship with any company whose stock is mentioned in this article.