Sarah Roza confirms split from MAFS husband Telv Williams
MAFS contestant Sarah Roza has taken to social media to express her "great heartache, regret & sadness" following the experiment.
The reality TV star's lengthy post confirms her split from TV husband Telv Williams, following months of speculation.
"On the back of what has been such an extraordinary experience it is with great heartache, regret & sadness that Telv & I are no longer together," the fiery red-head wrote.
"As you undoubtedly saw, my heart was completely committed to this before I met my husband & it was absolutely set on fire once I did meet him."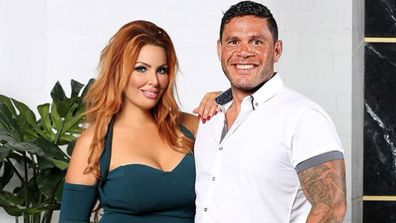 (Nine)
At the final commitment ceremony, the pair teared up as they discussed the difficulty with their long-distance love but pledged to stay together.
However, it seems it got too much for the pair, with Roza continuing: "Like all relationships, no one but the couple involved know exactly what goes on behind the smiles & the tears, so respecting the dignity of both Telv & myself I am wanting to be completely transparent with you; the dedicated, much loved & appreciated viewer.
LISTEN: All the behind-the-scenes goss from the final explosive week of MAFS on the Talking Married podcast (Post continues.)
"Being surrounded by friends & family is providing a safe haven for me now. This is so I can heal & continue to carry on living a upstanding & happy life. 
"An experiment like this forces you to reveal exactly who you are. For me; I'm so proud of my resilience, decency, compassion & my loyalty. I know that nobody is perfect yet I am at that stage in my life where the foundation of basic respect & support from my partner is crucial. As a woman I know what I truly deserve & I just can't allow my innate standards to be compromised.
"There were so many heartfelt moments that we shared together which I honestly will treasure forever.
"I truly wish only the absolute best for Telv because I undoubtedly will always love & care very deeply for him, but ultimately I deserve someone who shares the same life goals & aspirations as I do.
"Whilst I didn't find lasting love it has surprised me that I did in fact find something much more important; my inner strength.
"This honestly was the most challenging & intensely emotional undertaking that I've ever committed to. I've 'walked through fire' more times than I ever imagined I would.
"While it saddens me that it didn't work out, I do know the right man for me is out there somewhere looking for me too. I still believe in my happily ever after & that I'm deserving of a pure & committed love. 
"I will always be eternally grateful l that our paths crossed in this way as I feel that I have learnt so much about myself & grown exponentially as a person. I'm honoured to have been a part of this incredible life changing journey & I'm thrilled to embrace the next exciting chapter in my life…" she concluded.
The post has already had over 12,000 likes from fans of the hit TV show, which wound up another season this week.