Viral wrong number text ends up raising money for a good cause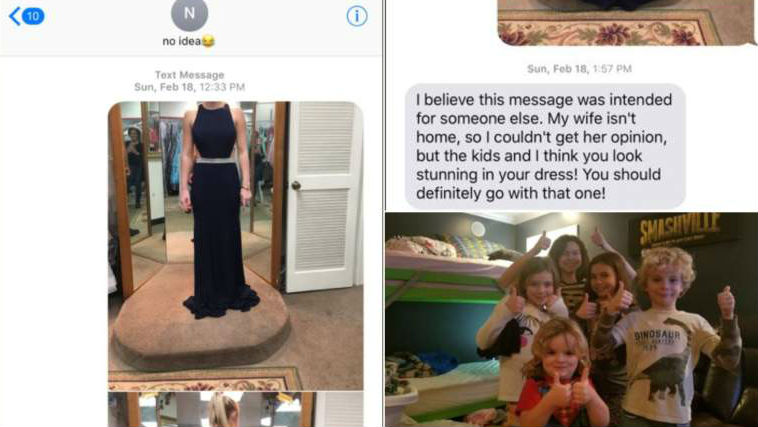 KHQ.com –
When Tony Wood got a text from a wrong number, he decided to be a little creative with his response, and the text message set off a chain of events that ended up helping Wood's family in a big way.
A woman accidentally sent a picture of herself in an evening gown to the wrong number. The father of six responded to the photos with, 
"I believe this message was intended for someone else," he wrote. "My wife isn't home, so I couldn't get her opinion, but the kids and I think you look stunning in your dress! You should definitely go with that one!"
He also included a photo of five of his six kids giving the sender a thumbs up.
Twitter user Mandi Miller posted screenshots of the exchange on Twitter and the tweet quickly went viral.
It turns out the reason why Wood's wife wasn't home was because she was at the hospital with their 4-year-old son, who's battling leukemia. The viral tweet led Twitter to the family's GoFundMe page to help with expenses during their son's treatment. The page was flooded with donations once word got out. It's raised almost $50,000, way past its goal of $10.000.
Wood posted an update on the page thanking everyone for helping his family on Tuesday. 
"First and foremost, I wanted to thank everyone SO MUCH for their kindness and generosity. God continues to show us He is there for us and it is awesome to see His love move! With that said, we have more than TRIPLED our goal! Our needs to get back on our feet have been met!," Wood wrote.  "We can't thank you enough, but any further donations are unnecessary! Again, we can't thank you enough for all of the love and support you have shown our family! You have provided more than enough and we will be forever grateful to all of you! God bless and have a wonderful day!"