Unilever's Big Move Looks a Lot Like Prep for Prime M&A
Forget Brexit. Unilever's decision to go Dutch is about giving itself advantages in M&A, whether bidder or target.
The global consumer goods company's decision to scrap its Anglo-Dutch structure and domicile in the Netherlands definitely strengthens its takeover defenses after the $143 billion hostile bid from Kraft Heinz Co. last year.
Big Decision
Unilever's choice of headquarters concludes a process begun over a year ago
Source: Bloomberg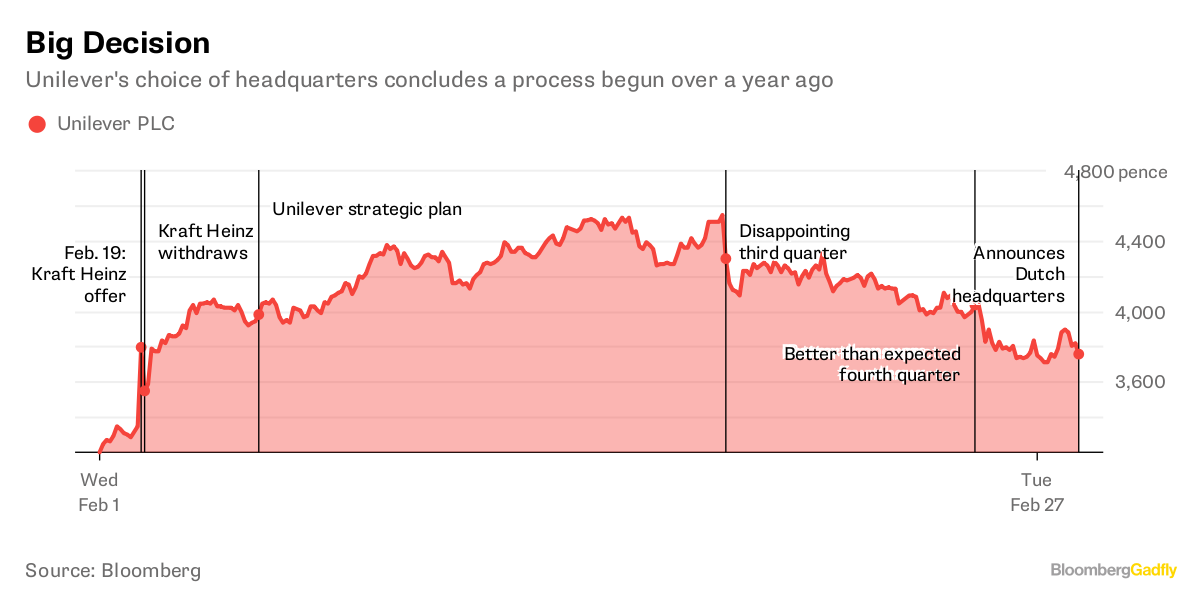 Any future approach for Unilever would come under the jurisdiction of Dutch takeover rules rather than the U.K. Takeover Panel. The Netherlands regime is more permissive of bid targets taking action to frustrate bids. What's more, deal timetables are longer, although whether this favors bidder or target depends on the circumstances.
Floating in the background is a radical proposal to impose a one-year time-out on hostile bids for Dutch companies. That would be a major bar on dealmaking. However, a decision has yet to be made, and reconciling this with EU law looks hard. 
Unilever's directors will also have an unambiguous obligation under Dutch governance to treat shareholders and other stakeholders equally. This could affect the board's willingness to recommend an unwelcome bid, though does not confer power to block it.
The sop to shareholders is that Unilever is cancelling super-voting preference shares. The company shifts to one-share, one-vote investor democracy. Goodbye poison pills. There can be no going back from this without shareholder approval.
Unilever has also given itself some more M&A levers to pull.
Alongside the decision on its headquarters, the company said it would reorganize into three divisions — beauty and personal care, home care, and foods and refreshment. Each would have more autonomy, with greater responsibility for making strategic choices and managing financial performance.
Food Fad
Unilever's food sales growth has lagged that of its other divisions
Source: Bloomberg Intelligence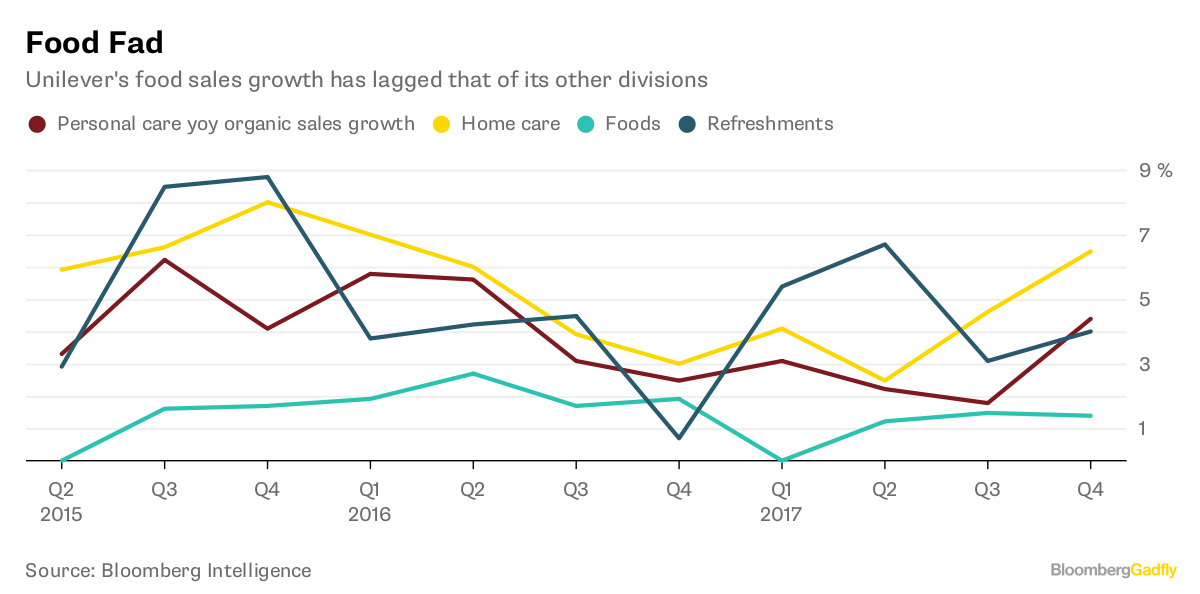 As Gadfly has argued, one of Unilever's longer-term defenses against another tilt from Kraft is bulking up in the faster-growing personal care business and offloading foods. If it pursued this strategy, a U.S. group such as Colgate-Palmolive Co. or Estee Lauder Cos. could be a possible acquisition target.
The new structure makes it easier for Unilever to offer paper in a U.S. takeover situation, enabling it to compete more effectively with a U.S. consumer giant, such as Procter & Gamble Co.
It also facilitates demergers. Slower-growing food is the primary candidate to be jettisoned. That's despite the fact that its divisional headquarters will be in the Netherlands while the personal care and home businesses will be led from the U.K. — assuaging wounded British pride.
Unilever isn't alone in giving itself some wiggle room. Reckitt Benckiser Group Plc is splitting its operations into two divisions, giving it the flexibility to offload slower-growing home brands.
Expect consumer assets to move around and Unilever to be involved in M&A. But its clear aspiration is to be a buyer and not the bought.
This column does not necessarily reflect the opinion of Bloomberg LP and its owners.
To contact the editor responsible for this story:
Jennifer Ryan at jryan13@bloomberg.net