India's Clouseau Bankers Deserve a Bigger Stick
It wouldn't be an exaggeration to think of India's 21 state-run lenders as one gigantic bad bank that's financially fragile, operationally weak, and forever in need of relief and rescue.
But in trying to blame the banking supervisor for the latest manifestation of the lenders' Inspector Clouseau-like ineptitude — a $2 billion scam at the second-largest — Finance Minister Arun Jaitley has unwittingly sparked a debate. Now that the supervisor-in-chief, Reserve Bank of India Governor Urjit Patel, has responded with a hard-hitting critique of the government, the mess may get fixed. Getting it done by 2019, the 50th anniversary of India's original sin of bank nationalization, would have symbolic as well as practical utility.
Deep Depression
Loan losses and fraud have hammered India's state-run bank index
Source: Bloomberg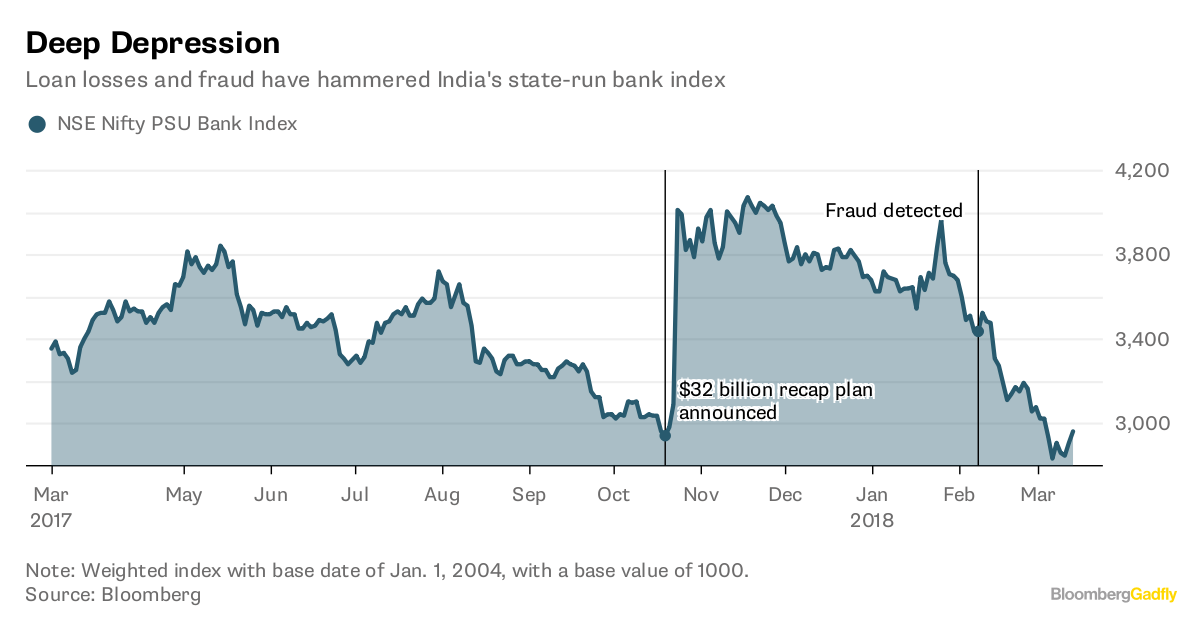 As things stand, the RBI can fire the CEO of any failing private-sector bank, remove directors, supersede its board, or force a merger. It can do none of those things with a public-sector lender. That's odd. Depositors or investors will never fully discipline a wayward state bank because they know taxpayers will backstop any losses. So it's important to give the RBI an even bigger stick to wield against the likes of Punjab National Bank, the epicenter of the recent fraud. Patel wants those powers:
"From the RBI's standpoint, legislative changes to the BR Act that make our banking regulatory powers fully ownership neutral – not piecemeal, but fully  – is a minimum requirement."
There can be only two good reasons for Jaitley to turn down this reasonable request. One, the government doesn't really want to relinquish its outsize control of state-run banks. Two, a subtle legislative change doesn't do very well on WhatsApp message groups. It lacks the faux sincerity of drawing up lists of loan defaulters to bar from leaving the country, the measure reported by Shruti Srivastava and Anto Antony of Bloomberg News on Thursday.
While such theatrics may convince some voters that the government is doing everything to protect the interests of taxpayers, its machismo is ultimately pointless. Big guns like the nephew-uncle jeweler duo of Nirav Modi and Mehul Choksi, as well as beer tycoon Vijay Mallya and Jatin Mehta, another diamond merchant, have already left India with billions of dollars in unpaid debt. Other billionaires would have no trouble procuring Caribbean passports or taking a short trip to Nepal.
Rising Trouble
India's six most-stressed sectors — iron and steel, infrastructure, construction, textiles, food processing and mining — account for over 75 percent of shaky loans
Source: RBI Financial Stability Report, December 2017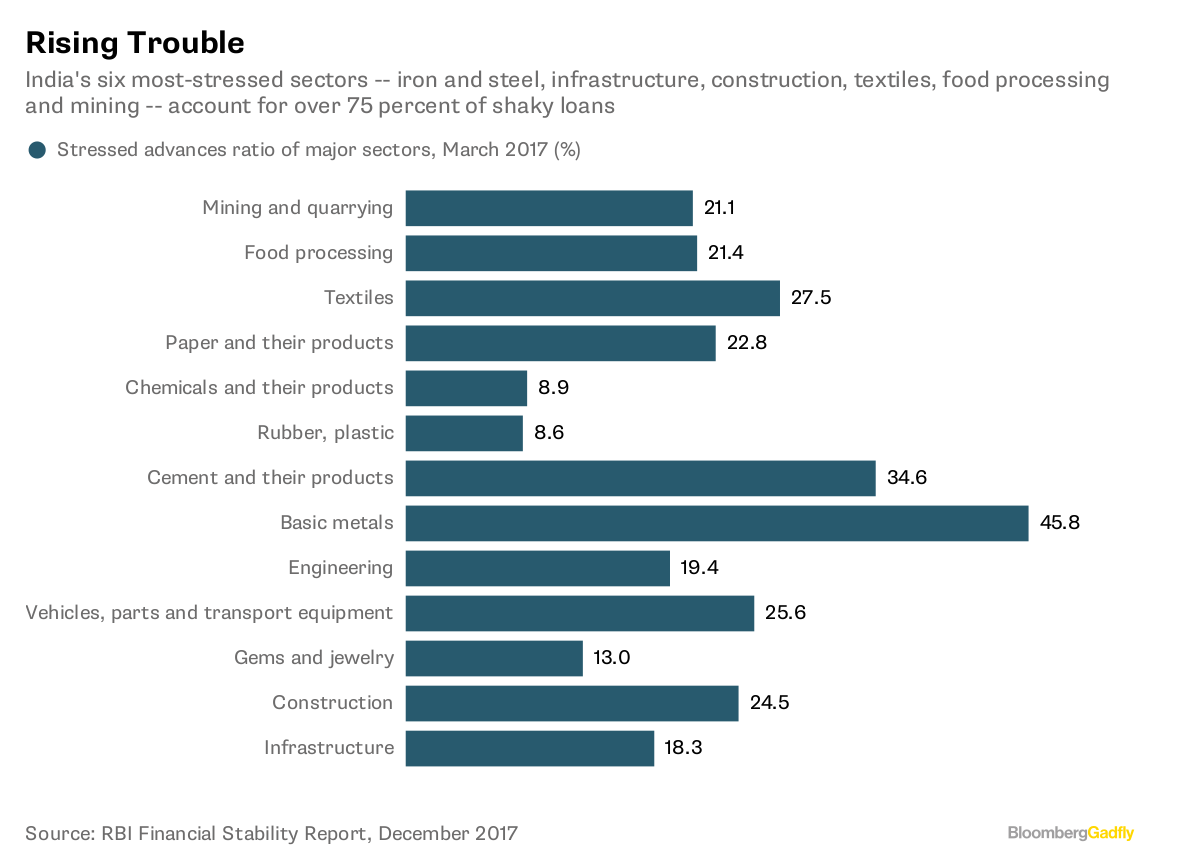 What has been lost in the noise surrounding the PNB fraud is a far-reaching attempt by Patel last month to take away — once and for all — Indian banks' seemingly endless ability to extend and pretend their bad loans. The move has been seen by some as too harsh, but as I have noted, slapping banks with penalties and higher loan-loss provisions if they fail to initiate bankruptcy proceedings against troubled debtors will leave the institutions a lot stronger in a couple of years than the condition in which Patel found them.
India's finance ministry and central bank usually disagree about everything. Often, the battles become ego clashes, as they did during the tenure of previous RBI head Raghuram Rajan.
Now that another governor has forcefully and publicly disagreed with the finance ministry's version of who should take responsibility for the PNB fraud, bureaucrats in New Delhi are bound to sulk again. However, if Jaitley can accept the validity of Patel's criticism that a state-run bank chief fears no consequences for running a lender into the ground, then he can start to clear the 50-year-old debris.
Giving the RBI a bigger stick — and boldly privatizing those government-controlled banks that are beyond redemption — could be Jaitley's signature reform. He should pick up the baton.
This column does not necessarily reflect the opinion of Bloomberg LP and its owners.
To contact the editor responsible for this story:
Matthew Brooker at mbrooker1@bloomberg.net